This is a book that students today will really relate to. Oliver and Celia Navel are twins with explorers for parents. Oliver and Celia would really like to just stay home and watch TV. They have their favorite programs and they really hate to miss them. Adventure definitely comes a-calling, though. Their mother has been missing for years and now they have to help their father not only find their mother but the lost Library of Alexandria. If they don't, they will have to be slaves to Sir Edmund, and that is certainly something they don't want to do. This is a great book with TONS of adventure. You will love it!
Review by Irene Taylor, Vista Elem. School Media Center
Rating: ★★★★½ (4.5 stars)
Interest Level: Grades 4-6
C. Alexander London – Official Site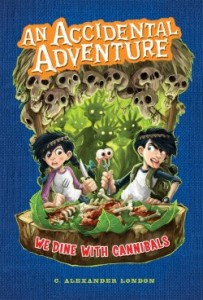 We Are Not Eaten by Yaks (An Accidental Adventure)
Written by C. Alexander London, with art by Jonny Duddle
Philomel Books
355 pages
Release Date: February 17, 2011
ISBN: 9780399254871 (hardcover)
Look for the sequel, We Dine With Cannibals, in November 2011!
Tags:
Adventure Fiction
,
An Accidental Adventure
,
Brothers and Sisters Fiction
,
C. Alexander London
,
Explorers Fiction
,
Humorous Fiction
,
Illustrated Fiction
,
Jonny Duddle
,
We Are Not Eaten by Yaks
,
We Dine With Cannibals