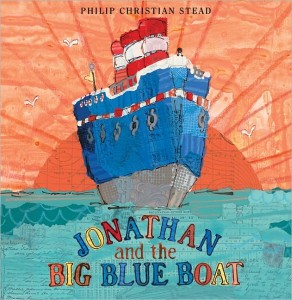 "It makes me feel very small," said Jonathan to Frederick. He held Frederick up high so he could see the Big Blue Boat too.
I really wanted to love this book.
The vibrant cover image is one of the most appealing I've come across all year, and the name Philip C. Stead promised great things. Stead authored last year's endearing little book A Sick Day for Amos McGee (his artistic collaborator and wife Erin E. Stead won the Caldecott Medal for her illustrations in that book). For Jonathan, husband Stead covers both words and pictures, proving that there is plenty of artistic prowess to go around in the family. The cover made me expect great illustrations and indeed they do not disappoint. These unique acrylic-painted collages were clearly a labor of love on the part of the artist, who in the Afterword reveals that he utilized boat stamps from his own childhood collection in the collages.
The text also has moments I absolutely love, such as the opening sentences quoted above, placing us right into the middle of a simple moment between Jonathan and his friend Frederick. In contrast to these glimpses of greatness, it is the lesser elements of the story that leave me wanting. The choices for Joseph's ragtag crew do seem random and nonsensical, but frankly not quite weird enough to be very interesting in the context of sea adventures in children's literature. Elmer's voyage in My Father's Dragon takes him to an island where a baby dragon has been enslaved by wild animals. Max finds himself king of proto-muppet monstrosities in Where the Wild Things Are. Here captain Jonathan only meets up with a helpful mountain goat and a sad circus elephant. The lonely circus elephant is indeed an interesting character, but I don't understand why he is in this seafaring story and not some other story of his own. And I just won't buy that pirates were scared away by the firing of their own cannon, unless we had been shown that they were clumsy, bumbling, wanna-be pirates, rather than the real thing. The ending is somewhat satisfying (the image of the girl with the bear in the junk store is indelible), but I don't understand how the events of the story and the additional characters picked up along the way have anything to do with arriving at that ending.
I would give this book 4.5 or 5 stars for illustrations, but only 2.5 or 3 for story, and so it ends up a decent 3.5 star book, which is disappointing only because it feels like it has an alternate cousin version that would have gotten 5 stars and been my picture book of the year.
Review by Joshua Whiting, Granite District Library Media / Ed. Tech. Department
Rating: 3.5 Stars
Interest Level: Grades K-3
Jonathan and the Big Blue Boat
Written and Illustrated by Philip Christian Stead
Roaring Brook Press
32 pages
Release Date: June 7, 2011
ISBN: 9781596435629
When Jonathan loses his best friend, a stuffed bear named Frederick, he sets sail on the Big Blue Boat to find him. Along the way he assembles a ragtag crew, including a mountain goat, a lonely circus elephant, and even a friendly whale. Adventure and intrigue (and pirates!) follow.

Philip Stead's whimsical illustrations, an usual mix of detailed collage and acrylics, his gently droll text, and supremely satisfying conclusion make this a picture book to treasure. — From the publisher
Tags:
A Sick Day for Amos McGee
,
Adventure Picture Books
,
Boat Picture Books
,
Jonathan and the Big Blue Boat
,
My Father's Dragon
,
Philip C. Stead
,
Sea Adventure Picture Books
,
Teddy Bear Picture Books
,
Where the Wild Things Are