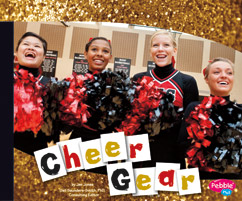 Cheer Gear is part of a new easy nonfiction series that covers different aspects of cheerleading. From outfit to props, this book explains each item's purpose. Did you know that cheer shoues have grooved sides to help give good grip? Or that Cheerleaders dont wear jewelry because they can scratch or get caught on uniforms. Easy and understandable to read, with big, bright pictures. A wonderful addition to an easy nonfiction library.
Review by Shannon Bishop, Wilson Elementary School Media Center
Rating: ★★★★★ (5 stars)
Interest Level: Grades K-2
Other titles in the Cheerleading Series (Capstone-Pebble Plus) include Cheer Skills, Cheers and Chants, and Cheerleaders in Action.
Cheer Gear (Cheerleading series)
Written by Jen Jones
Capstone Press
24 pages
ISBN: 9781429652735
Tags:
Cheerleaders
,
Cheerleading
,
Easy Nonfiction