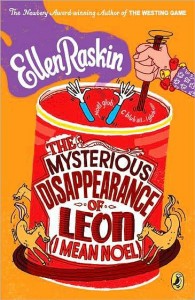 Written by Ellen Raskin

When Mrs. Caroline "Dumpling" Carillon has been married since she was 5. She hasn't, however, seen her husband since their wedding. Uneasy to meet him after all these years, she's not sure what to expect. When a storm capsizes his boat, however, and Leon disappears completely, it's up to Caroline to find him. Her only clue is a waterlogged one that says Glub! Blub! Can Caroline solve the puzzles and clues along the way and find Leon (or is it Noel) again?
A great mystery for adventure fans. The characters are likable and well-developed. The clues and puzzles are fun to solve along with the main character. The plot is unique and fun to read. Readers who like mysteries, adventure, and books like The Westing Game will enjoy reading this book.
Review by Jessica Moody, Olympus Jr. High Media Center
Rating: ★★★★½ (4.5 stars)
Interest Level: Grades 5-9
The Mysterious Disappearance of Leon (I Mean Noel)
Written by Ellen Raskin
Dutton Juvenile
Release Date: January 6, 2011 (paperback reprint); 1971
ISBN: 978-0525423690
Tags:
Adventure Fiction
,
Disappearances Fiction
,
Ellen Raskin
,
featured
,
Humorous Fiction
,
Mystery Fiction
,
Puzzles Fiction
,
The Mysterious Disappearance of Leon (I Mean Noel)
,
The Westing Game