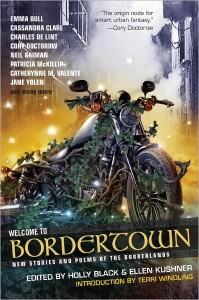 New Poems and Stories of the Borderlands
Written by Various Authors; Edited by Holly Black and Ellen Kushner

Welcome to Bordertown, a town that's on the border of the human and the elfin realm. Here, runaway teens can find adventure, escape from their reality, and discover ways to recreate themselves. These are their stories.
The stories are fun to read. The authors selected are great. The concept of an in-between world is a fun idea. Readers who like popular fantasy authors, adventure, and short stories will enjoy reading this book.
Review by Jessica Moody, Olympus Jr. High Media Center
Rating: ★★★★✩ (4 stars)
Interest Level: Grades 8+
Bordertown Series – Official Website
Welcome to Bordertown
Written by Various Authors; Edited by Holly Black and Ellen Kushner
Random House Books for Young Readers
516 pages
Release Date: May 24, 2011
ISBN: 9780375867057 (hardcover)
Tags:
Adventure Fiction
,
Ellen Kushner
,
Fantasy Fiction
,
Holly Black
,
Poetry
,
Short Stories
,
Urban Fantasy Fiction
,
Welcome to Bordertown