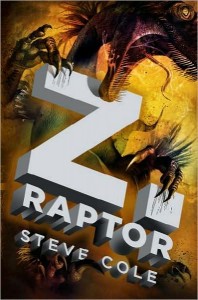 Evil scientists use a thought-based video game technology to create hyper-evolved killer dinosaurs, and Adam has to stop them.
The Hunting, Book 2
Written by Steve Cole
This was an exciting and action-packed read that had adventure, with twists and turns all the way though. Book 2 in the series with 13 year old Adam and his father, who has created a very realistic video game where the dinosaurs are controlled by your thoughts. Evil scientists get a hold of the program and the chase is on.
Review by Angela Pratt, Hillsdale Elementary Media Center
Rating: ★★★★★ (5 stars)
Interest Level: Grades 3-6
Z. Raptor
Written by Steve Cole
Philomel
265 p.
Release Date: June 9, 2011
ISBN: 9780399252549
From the Publisher
Thirteen-year-old Adam Adlar used to have a normal life. Then his father created the most advanced video-game technology ever-one that uses a person's thoughts to control game characters, so that the characters are actually part of you. And scientists stole this technology to create hyper-evolved dinosaurs with a human's ability to learn . . . and a beast's ability to kill. Now packs of raptors populate a deserted island where the only law is survival. For the death-row inmates who were forced to live there as part of an experiment, survival was not an option. Now it's up to Adam and his dad to make sure the brutality stops.

In his companion to Z. Rex, Steve Cole has once again written an absurdly commercial novel that will captivate imaginations, quicken pulses, and appeal to anyone who loves a good action film.
Tags:
Adventure Fiction
,
Dinosaurs Fiction
,
Inventions Fiction
,
Science Fiction
,
Stephen Cole
,
Video Games Fiction
,
Z. Raptor