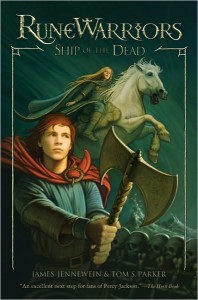 RuneWarriors, Book 3
Written by James Jennewein and Tom S. Parker
This is the 3rd and final book in the Rune Warrior series. It is easy to read as a stand alone and perks interest in the other books. Join Dane the defiant and the Rune Warriors on their adventurous journey full of funny juvenile male humor. As they progress in their quest they dodge roly-polies, revive an aged dying dwarf, are chased by a fire breathing giant, battle undead, and voyage to Hel's Underworld. Can they escape? Can they free Dane's beloved Astrid from her servitude as a Valkyrie? The book is fast paced and engaging.
Review by Andrea Van Wagoner, Arcadia Elementary Media Center
Rating: ★★★★½ (4.5 stars)
Interest Level: Grades 4-6
RuneWarriors, Book 3
Ship of the Dead
Written by James Jennewein and Tom S. Parker
HarperCollins
296 p.
Release Date: December 28, 2010
ISBN: 9780061449383
Also check out the other two RuneWarriors Books, Shield of Odin and Sword of Doom.
Tags:
Adventure Fiction
,
Fantasy Fiction
,
featured
,
Humorous Fiction
,
James Jennewein
,
Mythology Fiction
,
Norse Mythology Fiction
,
RuneWarriors
,
Ship of the Dead
,
Tom S. Parker
,
Vikings Fiction