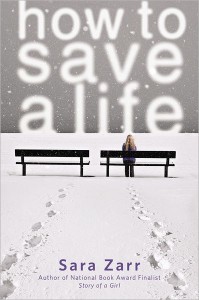 Written by Sara Zarr.
One of the best YA books of the year.
Jill is still reeling by the sudden death of her father 8 months ago, when she discovers her mother has invited an unwed pregnant teen to live with them, with the intention of adopting the baby.
Mandy is an 18 year old teen looking for a better life for her unborn child.
The story is told from both of their viewpoints. I loved all the characters in this book. They were rich and identifiable. I was on the edge of my chair the whole time, wondering if there could possibly be a happy ending to this emotional story. Great writing. After I posted this review on Goodreads, I see it is listed there and also in Booklist Magazine as one of the best books of the year for teens.
Review by Terrie Bishop, Academy Park Elem. Media Center
Rating: ★★★★★ (5 stars)
Interest Level: Grades 6-12
How to Save a Life
Written by Sara Zarr
Little, Brown
341 pages
Release Date: October 18, 2011
ISBN: 9780316036061 (hardcover)
Tags:
Adoption Fiction
,
Colorado Fiction
,
Death Fiction
,
Denver Fiction
,
featured
,
Grief Fiction
,
How to Save a Life
,
Pregnancy Fiction
,
Realistic Fiction
,
Relationships Fiction
,
Sara Zarr
,
Utah Authors