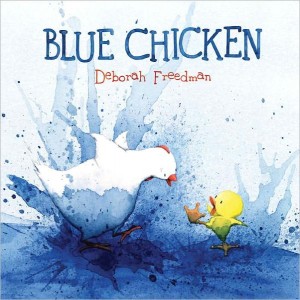 Written by Deborah Freedman
A delightful story about a chicken who wants to help to paint the barn, in a watercolor picture that is almost finished. It hops up on the edge of the blue paint jar and sees its reflection in the paint. Oops! The paint jar tips over and paint spreads over the picture! It soon reaches the other animals in the barnyard. The ducklings splatter the cat, the cat splatters the cow, which moos and wakes the other chickens. They too, are covered in blue and peevish. They all take pursuit of the chicken who just wanted to HELP! The chicken is really sorry. What can it do to fix things? There's a jar of rinsing water, holding some of the artist's brushes. With some help from one of the ducklings, they manage to tip over the jar of water, which rinses away the blue. All, except the sky. The illustrations are amazing and are clearly the star of this simple story.
Review by Pam Smith, Mill Creek Elem. Media Center
Rating: ★★★★★ (5 stars)
Interest Level: Grades PreK-3
Click here to read this book online!
Blue Chicken
Written by Deborah Freedman
Viking
40 pages
Release Date: September 15, 2011
ISBN: 9780670012930 (hardcover)
Tags:
Art Picture Books
,
Blue Chicken
,
Chicken Picture Books
,
Deborah Freedman
,
Farm Picture Books
,
Metafiction