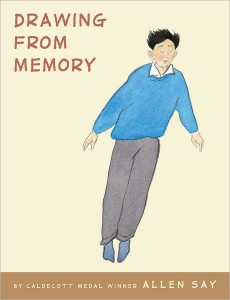 Written and Illustrated by Allen Say
What a beautiful memoir! It is beautifully illustrated and wonderfully designed. Allen Say wrote a very interesting story of his life, but the way that he shares it is fantastic. Basically, this is the story of Allen Say and his mentor and his childhood. There are beautiful illustrations, actual photographs from his life, drawings on photos, cartoons, collages, and words are used more as a part of the artwork than as text. The presentation of this story makes it very special.
This is a great book for upper elementary kids who want to read a biography. It a great book for kids who are interested in following their dreams. It's a great book for people who want to share information about the World War II era from the Japanese experience. It's a great book for artists who want inspiration.
I've shared this book with many people – it's a great story. I'm glad I got to experience it.
Review by Cheryl Baker, Mill Creek Elem. Media Center
Rating: ★★★★★ (5 stars)
Interest Level: Grades 4-12
Drawing from Memory
Written and Illustrated by Allen Say
Scholastic Press
63 pages
Release Date: September 1, 2011
ISBN: 9780545176866 (hardcover)
Tags:
Allen Say
,
Art
,
Artists
,
Authors
,
Biography
,
Drawing from Memory
,
Illustration
,
Memoir
,
Picture Books
,
World War II
,
Writing