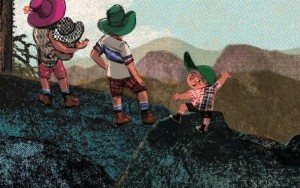 My favorite picks from 2011!
These are currently some of my favorite picture books from 2011.  I say "currently" because I am always discovering more books, so this list is not set up as finalized or definitive.  I may continue to add to and refine this list as time goes on.  Follow the links to read a review.  In most cases I wrote these reviews, but if someone else already reviewed the book for our site I just linked to their review.
Part 1: My Essential Purchase Picks
I feel confident calling these four books "essential purchases" because, in addition to my personal recommendation, these books were also on numerous year-end lists of professional journals, newspapers, websites, etc, and they have strong possible applications for classroom use.
---
Part 2: Highly Recommended Titles
---
Want some more suggestions? Check out our Best Picture Books list all the time for more recommended picture books.  You can also look at our list of ALL Picture Books to see even more reviews.  There are still many notable and interesting books that don't make the "Best Books" category.   I myself have reviewed a number that I like, but I just couldn't justify putting them on this list or in the "Best" category.
*I used the term "picture book" a little loosely in some of these cases; for my purposes here, if the illustrations are a significant element of the book I am including it in this list.
List and Notes by Joshua Whiting, Granite School District Library Media Program
Tags:
Alex Latimer
,
Blackout
,
Brian Selznick
,
David Soman
,
Earth to Clunk
,
Grandpa Green
,
Heart and Soul
,
Hooray for Amanda and Her Alligator!
,
Into the Outdoors
,
I'm Not
,
Jacky Davis
,
Jennifer Gordon Sattler
,
Jenny Offill
,
Joe Berger
,
John Rocco
,
Jon Klassen
,
Kadir Nelson
,
Lane Smith
,
Me…Jane
,
Michael Hall
,
Mo Willems
,
Nancy Carpenter
,
Oliver Jeffers
,
Pam Smallcomb
,
Patrick McDonnell
,
Perfect Square
,
Peter Brown
,
Picture Books
,
Pig Kahuna
,
Robert Weinstock
,
Stuck
,
Susan Gal
,
The Amazing Adventures of Bumblebee Boy
,
The Boy Who Cried Ninja
,
Want My Hat Back
,
Wonderstruck
,
You Will Be My Friend!