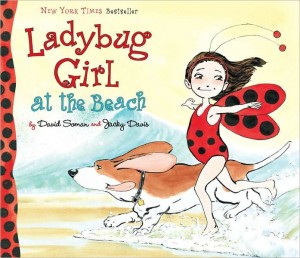 Written and Illustrated by David Soman and Jacky Davis
This fourth book in the Ladybug Girl series is the first one to somewhat disappoint me. Ladybug girl spends her whole visit to the beach avoiding the water out of fear. This is a very true-to-life situation that many children find themselves in (fearing to do something new that should be fun), but it makes for a slightly boring book because for so much of the book nothing really happens. We get none of the imaginative play and superhero adventures that are so excellently illustrated in Soman and Davis' other books. I guess we do get kite-flying, ice cream from the boardwalk, and a final long-awaited jump into the waves, but that's about it. As a day out it was probably fun, but as a book it's not so exciting.
Although it is slightly boring, production-wise Soman and Davis give us the great quality and detail I have come to expect from them. If you are new to Ladybug Girl don't start with this title, but if you have all the others you will probably need it to complete the set.
Review by Joshua Whiting, Granite Library Media / Educational Technology
Rating: (3.5 Stars)
Interest Level: Grades K-3
Also check out our review of The Amazing Adventures of Bumblebee Boy.
Ladybug Girl at the Beach
Written and Illustrated by David Soman and Jacky Davis
Dial Books for Young Readers
40 pages
Release Date: May 18, 2010
ISBN: 9780803734166 (hardcover)
Tags:
Beach Picture Books
,
David Soman
,
Fear Picture Books
,
Jacky Davis
,
Ladybug Girl
,
Ladybug Girl at the Beach
,
Ocean Picture Books