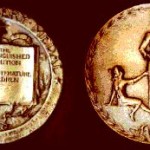 The winners of the 2012 Newbery, Caldecott, and other ALA Youth Media Awards will be announced on January 23,  but we don't have to wait until then to talk about them.  Leave a comment here and share your predictions.  What books do you think will win? What books do you want to see win? What books from 2011 do you love that you are sure will never win?  What do you like or hate about these awards, and how could they be made better?  If you correctly predict the winner of one of these awards in a comment on this post you will receive a prize book for your library!
---
Here are some descriptions of the awards, and links to lists of past winners:
The Newbery Medal was the first award for children's literature in the world.  It is awarded each year to the author of "the most distinguished contribution" to American children's literature published in the previous year.  Although most often awarded for a novel, the award is open to nonfiction, poetry, and any other children's texts.  Illustrations are not considered when judging a text for Newbery recognition.  The intended primary audience of a Newbery winner is children readers, ages 9-14.  In addition to awarding the medal,  the Newbery committee also gives recognition to several runner-up books, which are designated Newbery Honor books.
List of Newbery Medal and Honor Books, 1922 – Present
The Caldecott Medal is awarded to the artist of the "most distinguished American picture book for children" published in the previous year.  The book must provide a visual experience, and have children (up to the age of 14) as an intended primary audience.  The Caldecott also gives recognition to runner-up books, designated Caldecott Honor books.
List of Caldecott Medal and Honor Books, 1938 – Present
The Printz Award is a much newer award (it was first given in 2000), designed to recognize a book that "exemplifies excellence in literature for young adults."  Eligible books must have been published with a primary intended audience of "young adults" (defined as ages 12-18).  This award does not shy or back away from controversial and provocative works.
List of Printz Award and Honor Books, 2000 – Present
Other ALA Youth Media Awards
In addition to the Newbery, Caldecott, and Printz awards, there are many other interesting and useful children's and young adult literary awards given by the American Library Association.  Check out this fact sheet to see more information about all of them.
Tags:
ALA Youth Media Awards
,
Book Awards
,
Book Discussion
,
Caldecott Medal
,
Discussions
,
Newbery Medal
,
Printz Award