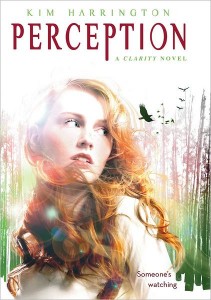 Clarity, Book 2
Written by Kim Harrington
Although this is the second book in the Clarity series, this story stands on it's own. This book has it all- paranormal activities, romance, a missing girl, and teenage angst. I love the way Kim Harrington writes, clear and fun to read, genuine characters with realistic problems. This is a fairly easy and fast read but because of content would recommend for 7th grade and up.
Each member of the Fern family has a special paranormal gift. Clarity can hold an object and learn of its past, her brother Perry can hear dead people, and their Mom, Starla, can read minds. These special abilities are not the main focus of the plot, however. A girl is missing, and someone is stalking Clarity. Is it the same person? Also, with two boys vying for Clare's attention, which will she invite to the girl's choice prom? The popular clique of girls seem to be accepting Clare, but she isn't sure if their friendship is genuine. And why did Perry suddenly develop panic attacks when he leaves his house?
I have really enjoyed this series.
Review by Terrie Bishop, Academy Park Elem. Media Center
Rating: ★★★★✩ (4 stars)
Interest Level: Grades 7 and Up
www.kimharringtonbooks.com
Also check out the review for Clarity, the first book in this series
Clarity, Book 2
Perception
Written by Kim Harrington
Point
275 pages
Release Date: March 1, 2012
ISBN: 9780545230537 (hardcover)
Tags:
2012 YA Fiction
,
Cape Code Fiction
,
Clarity
,
High School Fiction
,
Kim Harrington
,
Massachusetts Fiction
,
Mystery Fiction
,
Paranormal Fiction
,
Paranormal Romance Fiction
,
Perception
,
Psychic Fiction
,
Relationships Fiction
,
Stalking Fiction