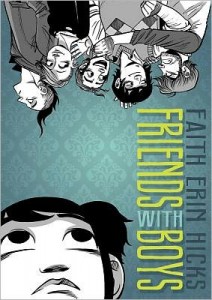 Written and Illustrated by Faith Erin Hicks
After being homeschooled her whole life, Miaggie is terrified to go to public school. With the hope of some new friends, she starts to adjust to her new surroundings. While hanging out with her new friends at the museum and graveyard, she discovers the story of a widow who lost her husband when he disappeared. Maggie is curious about the story. After hearing the widow's story, however, she's haunted constantly by the ghost. Can Maggie discover what the ghost wants? What really happened to the widow's husband?
This is a fun graphic novel for zombie and ghost fans. The illustrations are well-done and complement the text. The plot is simple but entertaining. Readers who like graphic novels, paranormal, and humorous books will enjoy reading this book.
Review by Kira Moody, Olympus Jr. High School Community Member
Rating: ★★★★½ (4.5 stars)
Interest Level: Grades 4 to 9
www.friendswithboys.com
www.faitherinhicks.com
Friends with Boys
Written and Illustrated by Faith Erin Hicks
First Second Books
224 pages
Release Date: February 28, 2012
ISBN: 97891596435368 (hardcover)
Tags:
2012 Children's Graphic Novels
,
2012 YA Graphic Novels
,
Boys Fiction
,
Faith Erin Hicks
,
Friends with Boys
,
Ghost Fiction
,
Horror Fiction
,
Paranormal Fiction
,
School Fiction