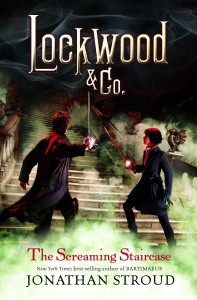 Lockwood & Co., Book 1
Written by Jonathan Stroud

This story takes place in London at a time when ghosts and other paranormal activity is rampant, and is known as The Problem. Agencies abound to cleanse houses and other areas that are haunted. Ghost lamps are erected on every corner and people protect themselves with iron and rapiers. Children are the only ones who are able to sense, see or hear these spirits, so many children are employed at this time. Lockwood and Co. is one of the only agencies that is totally run by children. The agency consists of three teenagers- Lockwood, Lucy and George. This first book in the series is told first person by Lucy, who is 14 years old and has the special ability to hear ghosts, although she can also make out shapes. When Lucy accidentally burns down a house trying to destroy the source of the ghost of a young girl, the agency is sued by the homeowner. Lockwood and Co. must find a way to pay this fine and reestablish their reputation. When another case comes along with a big payout and lots of danger, Lockwood accepts the challenge and the group is off on an incredibly dangerous mission.
Although this is not the kind of book I would normally pick up, I really enjoyed it. The writing was excellent, very descriptive of the ghosts and paranormal stuff, suspenseful, and had great characters. My only apprehension about having it in an elementary library is that it is almost 400 pages long. I would suggest it for higher-level readers grades 4 and up. Personally, I look forward to reading the rest of the series as they become available.
Review by Terrie Bishop, Academy Park Elementary Media Center
Rating: ★★★★★ (5 stars)
Interest Level: Grades 4 and up
Series Website (USA): www.lockwoodandco.com
Lockwood & Co., Book 1
The Screaming Staircase
Written by Jonathan Stroud
Disney/Hyperion Books
390 pages
Release Date: September 17, 2013
ISBN: 9781423164913 (hardcover)
Categories: Elementary – Fiction, Jr. High – Fiction, High School – Fiction
Tags: Steam-punk, London, paranormal, ghosts, haunted houses, psychic ability
Tags:
2013 Middle Grade Fiction
,
England Fiction
,
Ghosts Fiction
,
Horror Fiction
,
Jonathan Stroud
,
Lockwood & Co.
,
London Fiction
,
Paranormal Fiction
,
Psychic Fiction
,
Steampunk Fiction
,
Supernatural Fiction
,
The Screaming Staircase