Written by Laban Carrick Hill, Illustrated by Theodore Taylor III
This biographical picture book tells the story of Clive, a Jamaican boy who emigrates to the Bronx in the U.S.A. at age 13. He brings with him his love of music and memories of the great dance parties in Jamaica and the DJs who led them. One day Clive's dad brings home a monster stereo system but doesn't set it up right, so the sound is tiny. Clive tinkers and learns the system until he gets a huge sound out of the huge stereo. Kool Herc and his sister rent out a rec. room and set up the sound system for a dance party, and DJ Kool Herc is born. The story goes on to show Herc's innovations in using two turntables to repeat the breaks in songs to keep everybody dancing, giving rise to break-dancing. He invites friends to MC and chant rhymes over the beats like the Jamaican DJs he saw as a kid used to do, giving rise to rap.
I love this book because it shows a true story of how one kid's fascination with music and his creativity and ingenuity gave rise to a positive youth culture in a city known to that point mainly for poverty and violence. It also reminds readers of the humble and youthful neighborhood origins of a music that 40 years on is still a major force in popular culture worldwide. An author's note at the close of the book provides details and personal anecdotes about this Bronx culture, as well as a bibliography and a time line of Hip Hop from its origins up until the beginning of its mainstream success in the mid-80s. I highly recommend this book for any young person (or not so young person ) interested in music or pop culture, whether Hip Hop or other genres.
Review by Joshua Whiting, Granite School District Library Media Program
Rating: ★★★★✩ (4 stars)
Interest Level: Grades 4 and Up for Independent Reading (could go lower as a read-aloud)
Author Website: www.labanhill.com
Illustrator Website: http://www.theodore3.com/work/when-the-beat-was-born/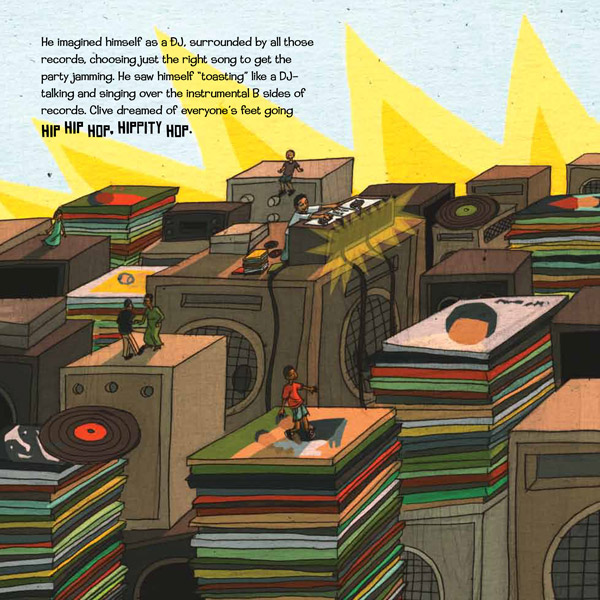 When the Beat Was Born: DJ Kool Herc and the Creation of Hip Hop
Written by Laban Carrick Hill, Illustrated by Theodore Taylor III
Roaring Brook Press
32 pages
Release Date: August 27, 2013
ISBN: 9781596435407 (hardcover)
Tags:
2013 Children's Nonfiction
,
2013 Picture Books
,
Biographical Picture Books
,
Biography
,
Breakdancing
,
Creativity Picture Books
,
Dancing
,
Dancing Picture Books
,
DJ Kool Herc
,
Hip Hop Picture Books
,
Hip-Hop
,
Illustrated Nonfiction
,
Laban Carrick Hill
,
Music
,
Music Picture Books
,
Rap
,
Theodore Taylor III
,
When the Beat Was Born