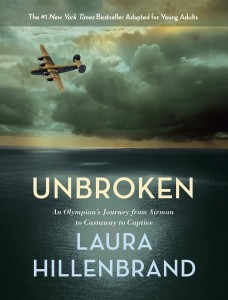 * Young Adult Adaptation *
Written by Laura Hillenbrand

Wow! What an eye opener this book was to me. We concentrate so much on Germany and the Holocaust that I was not aware of some of the horrific events that our POWs went through. Of course I knew some of it, but I wonder if teenagers really understand the atrocities that were happening elsewhere in the world during World War II.
This is the Young Adult version and I think that if they would read this book the teens of today would really appreciate our country more.
The author has put the details of Louie Zamperini's life as an Olympian and POW in a way that keeps your interest until the very end. It is amazing what Louie endured and still lived to return home. He came out of it a broken man at first, but in the end being reminded of how God played a part in the years he was in the POW camps; he was able to live a full and happy life.
I recommend this book to young and old. It will change the way you think about our freedom to live the life we are privileged to live here in the United States.
Review by Kathy Andreason, Brockbank Jr. High Media Center
Rating: ★★★★★ (5 stars)
Interest Level: 7th Grade and Up
Unbroken: An Olympian's Journey from Airman to Castaway to Captive
Young Adult Adaptation
Written by Laura Hillenbrand
Delacorte Press
320 pages
Release Date: November 11, 2014
Categories: Jr. High – Nonfiction
Tags: historical fiction, WW II, POW, torture, Olympics
Tags:
2014 YA Nonfiction
,
Athletes
,
Biography
,
Kathy Andreason
,
Laura Hillenbrand
,
Louis Zamperini
,
Olympic Athletes
,
Olympics
,
Prisoners of War
,
torture
,
Unbroken
,
World War II