Elementary Library Media October Chapter Book Giveaways

Holly Goldberg Sloan will be signing copies at King's English at 7:00 PM on October 6, 2015.  Visit their website for more information.
Appleblossom the Possum by Holly Goldberg Sloan, illustrated by Gary A. Rosen (Grades 3-5)
"Introduced at the moment of her birth, Appleblossom is a young possum growing up along with the 12 others in her litter. Mama Possum trains them in possum survival skills: foraging, playing dead convincingly, and avoiding monsters such as people, vehicles, and dogs. Exploring on her own, Appleblossom tumbles down a chimney into a house inhabited by a friendly young girl, her parents, and a decidedly unfriendly dog. Though the endearing possum values her independence, she treasures the family members who bravely attempt a rescue mission. Readers will enjoy both the realistic details of a newborn possum making her way to her mother's pouch, and the fanciful view of adult possums' urban nightlife, complete with rooftop music and a conga line. Best of all is the consistent, convincing presentation of Appleblossom's perspective. Throughout the book, lively black, gray, and pink illustrations portray characters and events. With wide-spaced lines of fairly large type, this attractive book will engage young readers intrigued by animals." -Booklist, vol 111, number 21, p67
Brian Selznick will be presenting his new book at the Salt Lake City Library at 7:00 PM on October 23, 2015.  Visit the City Library website for more information.
The Marvels by Brian Selznick (Grades 4-6)
/* Starred Review */ "This brilliant journey through time in words and pictures is also a story of a theatrical family and their fortunes. This heavy tome opens to tell of one family, the Marvels, from 1766 to 1900 as their connection to the Royal Theatre in London begins and perhaps ends. In the first half of the book, all of this complex history is vividly conveyed through illustrations, with minor hints from playbills, cards, and letters that appear as part of the art. Selznick's ability to convey the passing of time and connections among characters is remarkable. Characters appear, shine, and disappear throughout the years, but certain motifs recur no matter where the spotlight is focused. The second portion of the story is conveyed entirely in text, building on the same themes but taking place in 1990 in a very different London, where the echoes from the past are particularly embodied in 13-year-old Joseph, a boarding school runaway searching for his uncle's house. He soon meets Uncle Albert, who seems less interested in getting to know his nephew than in the preservation of an anachronistic Victorian house which is more museum than home. The echoes from the earlier history are haunting, requiring Joseph to delve into the secrets of Uncle Albert and of the house without giving away his own. Selznick ends with a satisfying section of illustrations that embody the maxim of this family, "You either see it or you don't." VERDICT Complex, entertaining, and full of gorgeous art and writing, this is a powerhouse of a book." -School Library Journal, vol 61, issue 8, p92
Zack Delacruz: Me and My Big Mouth by Jeff Anderson (Grades 4-7)
"A bullied San Antonio sixth-grader finds himself paired with his chief tormentor for a fund-raiser in this issues-driven fiction debut. Shy Zack only wants to keep his head down. But when he's paired with hyperactive class clown José to supervise a chocolate sale that will earn his class entry to the 7th-8th Grade Dance, he is stuck with a series of mettle-testing challenges—from José's refusal to do any work at all to the revelation that classmate Janie has eaten nearly $200 worth of the stock. Not only does Zack rise to each (throwing together a last-minute car wash to recoup the loss) but he even reads up on eating disorders and organizes a peer intervention for Janie. By book's end, he's a hero. Though Anderson, a former teacher, crafts a picture of school as a whirl of humiliating snaps, teachers unable to control much of anything, and clueless administrators forcing students to endure ineffectual anti-bullying assemblies, he mostly manages to keep the overall tone light and leaves his characters dancing." -Booklist, vol 112, number 1
The Thing about Jellyfish by Ali Benjamin (Grades 5-8)
/* Starred Review */ "In her first solo outing, Benjamin (coauthor of Positive with Paige Rawls) composes a moving portrayal of loss and healing. Franny Jackson and Suzy Swanson had been best friends for years until Franny joined a middle-school clique and began to drift from Suzy and her penchant for scientific facts. As seventh grade begins, 12-year-old Suzy channels the conflicting emotions surrounding Franny's drowning death into silence, shutting out her divorced parents, her older brother and his boyfriend, her psychologist, and a caring science teacher. Replacing language with research, Suzy follows the scientific method, whose structure mirrors that of the book, hoping to prove that a jellyfish sting was responsible for Franny's drowning. Reminiscent of works by Jennifer L. Holm and Sharon Creech, Benjamin's novel is a shining example of the highs and lows of early adolescence, as well as a testament to the grandeur of the natural world. Increasingly fascinated by her own theories, Suzy embarks on an ambitious plan to prove her hypothesis, while tentatively reaching out to new friends and finding support for her emerging voice." -Publishers Weekly, vol 262, issue 23
The Seventh Most Important Thing by Shelley Pearsall (Grades 5-8)
/* Starred Review */ "Pearsall's latest historical novel, set around the time of JFK's assassination, shifts its focus away from the familiar topics, instead focusing inward on the main character's redemption. When Arthur T. Owens hurls a brick at the local trash picker, James Hampton, whom he spies wearing his recently deceased father's hat, he receives a most unusual sentence: 120 hours of community service with the Junk Man himself. Toting Hampton's list of the seven most important things, Arthur reluctantly scavenges, unsure of the purpose of wood, lightbulbs, coffee cans, foil, mirrors, glass bottles, and cardboard, until he discovers what James does with them. In the garage is the Junk Man's shiny, throne like masterpiece, which he calls The Throne of the Third Heaven. Readers will be moved by Arthur's growth, as he forms an attachment to the man to whom he initially gave so little thought, as well as by his dedication to saving the folk artist's prized work after his death. Though fictionalized, Pearsall shines a light on Hampton, an amazing, lesser-known artist whose pieces are housed in the Smithsonian Museum, with an author's note detailing the true story. A moving exploration of how there is often so much more than meets the eye." -Booklist, vol 111, number 22, p68
The Astounding Broccoli Boy by Frank Cottrell Boyce (Grades 4-7)
/* Starred Review */ "Rory and his arch nemesis, Tommy-Lee, both find themselves in the isolation ward of the same hospital. Why are they there? It seems each of the boys has turned bright green from head to toe. The doctors are baffled. Could this condition be related to the Killer Kittens outbreak? Could it have been caused by something even worse? To escape, Tommy-Lee and Rory must reluctantly join forces. Along the way, they are aided by Koko Kwok, an opinionated girl who is also a victim of the green coloring, and a penguin named Peter. The four of them set out on a perilous journey to announce to the world what they have surmised about their condition. Of course, three green kids and a penguin have a hard time being taken seriously as messengers, and it's not long before law enforcement is hunting the streets of London for the Broccoli Gang. Boyce, who's Cosmic (2010) is something of a modern classic, and who recently wrapped up several authorized sequels of Ian Fleming's Chitty Chitty Bang Bang series, provides readers with a fast-paced and hysterically funny adventure while also exploring the nature of fear, friendship, and family. Readers might also appreciate The Doldrums, by Nicholas Gannon, and Tom Angleberger's Qwikpick Papers series." -Booklist, vol 111, number 21, p67
Connect the Stars by Marisa De Los Santos (Grades 4-7)
"In this funny and profound novel, middle-school misfits isolated by their exceptional talents find themselves on a character-building trek, el Viaje a la Confianza ("Journey to Confidence"), through the desert wilderness of West Texas. Audrey is burdened with the unerring ability to tell when people are lying, while Aaron has a photographic (and phonographic!) memory. When the camp bully, Daphne, goes missing, they work together as a team to find her—and save her life. Unfortunately, Daphne's backstory is not credible, and the solution to the mystery also strains believability. But what makes the story special is the authors' nuanced understanding of how our special gifts fit into our lives. Each kid's talent is like a powerful medicine that can be used to help or to harm, depending on the dosage and the symptoms: Audrey must learn to temper her love of the truth with mercy, while Aaron must assemble his bits of data into a bigger picture. Satisfyingly, they do learn to use their gifts in context." -Booklist, vol 111, number 22, p67
Francine Poulet Meets the Ghost Raccoon by Kate DiCamillo (Grades 1-4)
/* Starred Review */ "The latest addition to the Tales from Deckawoo Drive series spotlights animal control officer Francine Poulet, renowned for facing off with a bear and for being solid as a refrigerator. Francine meets her match, however, when she is asked to capture a screeching raccoon that may or may not be a ghost. Chagrined by defeat, Francine resigns her position until young Frank Endicott gives her the pep talk she needs to face her fears and her masked nemesis. Fans of Leroy Ninker Saddles Up (2014) will relish this new tale, which successfully expands the core of the Mercy Watson series while offering generous cameos from the original characters, as well as much buttered toast. No one offers early readers better quality prose than DiCamillo, who never allows the constrictions of this format to deter her from excellent writing: "Franny, you are the genuine article. You are solid. You are certain. You are like a refrigerator. You hum." Series illustrator Van Dusen's artwork (not seen in final form) is a treat, as always, reflecting the quirkiness of DiCamillo's unique cast of characters. Francine Poulet will wrangle readers' hearts along with rascally wildlife in this standout early chapter book." -Booklist, vol 111, number 21, p72
My Teacher is an Idiom by Jamie Gilson, illustrated by Paul Meisel (Grades 2-4)
"It's Mind Your Manners Month at Sumac School, but that's hard for second-grader Richard when his best friend, Patrick, is a jokester. When one of his pranks leaves red Jell-O splattered on the vice-principal's shirt, and Sophie—the new student from France—calls them stupid, the trio of classmates ends up in the office. The misunderstanding becomes even murkier when Richard tries to explain the situation to Sophie using idiomatic expressions. When she starts talking about "making white cabbage," they also learn that idioms exist in other languages as well. The idioms and humor abound throughout as Richard and Patrick suffer the consequences of Patrick's prank by creating and delivering a report on manners in the lunch room at the next school assembly. With Patrick not one to keep his nose clean, the boys' friendship is also tested as Patrick continues his antics. Accompanied by lively black-and-white sketches, Richard's first-person narration lends a hand at keeping lessons on language arts and manners lighthearted." -Booklist, vol 111, number 21, p75
Night on Fire by Ronald Kidd (Grades 4-7)
/* Starred Review */ "In 1961, riding a Greyhound bus was more than a way to get from one place to another. For some, the destination was freedom. Told through the eyes of a white teen with a thirst for adventure, the novel takes readers on an aching journey of self-discovery at a time when figuring out the world meant facing devastating truths about where you lived and what you loved. Thirteen-year-old Billie Sims loves watching the sleek, silver Greyhound buses pass through Anniston, Alabama, reading the bus schedule the way some kids read the funny papers. She loves home, but she yearns for more, hoping and dreaming about taking the bus into her future. However, with parts of the South refusing to enforce segregation laws and civil rights activists refusing to back down, Billie soon learns that seeing the world is not as important as seeing what is right in front of her. Kidd writes with insight and restraint, creating a richly layered opus that hits every note to perfection. Readers who know the history will cringe at Billie's naiveté those who do not will surely find themselves re-evaluating their worlds. For them, Billie's coming-of-age could serve as a cautionary tale about where America once was and why we all need to stay vigilant, lest we return as current headlines attest. Beautifully written and earnestly delivered, the novel rolls to an inexorable, stunning conclusion readers won't soon forget." -Kirkus Reviews, July 15, 2015
A Night Divided by Jennifer A. Nielsen (Grades 4-7)
"Four years after the Berlin Wall went up, in 1961, 12-year-old Gerta Lowe is eager for freedom and to reunite her family. Separated from her father on Germany's west side, Gerta, her brother Fritz, and her mother live in East Germany under Communist rule and near-relentless scrutiny. One day, she sees her father on a platform overlooking the wall, and she realizes he's trying to send her a message: dig a tunnel! With the help of Fritz, the two siblings plan carefully, overcome dangerous obstacles, and then face the toughest task of all: convincing their mother to escape with them. Although Nielsen (The False Prince, 2012) relegates the action to the end of the book, the story's palpable tension and stark details of daily life in Communist East Germany will hold readers' interest.  Gerta is a strong narrator—courageous, insightful, and brave—whose fiery desire for freedom from communism is noteworthy. Though historical novels may not appeal to every reader, this is equally a story of pressure and friendship, suspicion and strength, forgiveness and understanding." -Booklist, vol 111, number 22, p68
Currents by Jane Petrlik Smolik (Grades 3-7)
"Bones is a slave girl on a Virginia plantation; Lady Bess is the daughter of the Duke of Kent, living on the Isle of Wight; Mary Margaret is an Irish immigrant residing in Boston. When Bones finds her real name—Agnes May—written in her master's slave registry, she rips out the page and places it in a bottle that she sets free on the James River. Over the course of two years, this bottle travels back and forth across the Atlantic, linking the three girls together. Each girl's story is compelling in its own right, but together they weave a tapestry of intelligence, courage, and resourcefulness. Smolik's writing is beautiful, supported by research (sourced at the back of the book) that gives each girl's narrative a distinct tone and sense of place. This is a story about the inherent freedom of language and ideas. As such, the concept of lives linked so tenuously rings with authenticity despite the seeming implausibility of the bottle's journey." -Booklist, vol 111, number 16, p59
Bamboo Sword by Margi Preus (Grades 5-8)
/* Starred Review */ "Thirteen-year-old Yoshi is a natural with the sword and relishes the thought of slicing up the hairy, bulbous-nosed barbarian invaders to protect the Sacred Land of the Rising Sun. Japan in 1853 is a fiercely isolationist country, and no one is expecting visitors when American explorer Commodore Perry arrives at Edo Bay with four steamships belching black smoke. The villagers fear an attack, but Perry is instead delivering a letter from U.S. President Millard Fillmore asking for open ports. Yoshi becomes embroiled in the national panic when he's hired as a bodyguard for Manjiro (the hero of Preus' 2011 Newbery Honor Heart of a Samurai), now a Western cultural adviser to the shogun. Yoshi's worldview is further shaken when he finds himself nose to nose with an actual American barbarian's "lowly cabin boy" Jack Sullivan from Perry's ship. Despite Yoshi's rather murderous misgivings, he becomes his enemy's protector and friend and Jack becomes his, making a good case that xenophobia is often simply a matter of ignorance. Thanks to the lively, warm, and witty storyteller's voice and the vivid, sensuous depictions of the katana swish and kimono swirl of 19th-century Japan, readers will feel immersed in this tumultuous time in Japanese history. As with her earlier book, the pages are liberally decorated with archival images, supplemented by original art by cover artist Yuko Shimizu. Preus spins another suspenseful swashbuckler starring a Japanese boy who finds himself caught between cultures." -Kirkus Reviews, June 1, 2015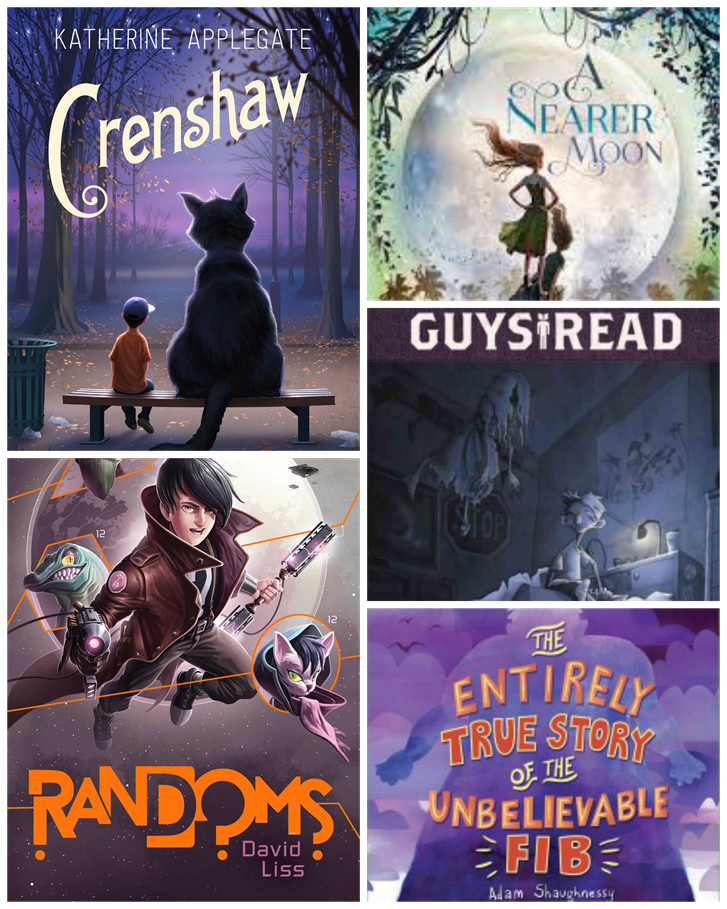 Crenshaw by Katherine Applegate (Grades 3-6)
"Soon-to-be fifth-grader Jackson goes for facts and science—things that are real and true—and having a giant, talking cat around doesn't fit the bill. It has been years since his imaginary feline friend Crenshaw was on the scene, and Jackson can't figure out why he is back or how to make him go away. It soon becomes apparent that all is not well in Jackson's home. Though he has a loving family, money is tight. Jackson can't help remembering back to when they had to live in a minivan—that was when he first met Crenshaw—and he fears that might happen once again. Newbery winner Applegate (The One and Only Ivan, 2012) uses gentle humor, embodied by Crenshaw, to explore the topic of homelessness. Jackson's anxiety is central to the narrative, and his concerns will resonate with readers who have been in stressful situations. Though the story is weighty, it is a quick read that encourages people of all ages to be honest with one another and value family and friends (real and imaginary!)." -Booklist, vol 112, number 1, p112
A Nearer Moon by Melanie Crowder (Grades 5-8)
/* Starred Review */ "Crowder (Audacity) blends gorgeously poetic language with precisely observed detail in this delicate fantasy of sisterly love tested by separation and illness. Luna and her younger sister, Willow, live in a swamp caused by the mysterious damming, nearly a generation ago, of the river that used to flow through their village. The swamp water is supposedly cursed, and even one sip causes a wasting sick- ness that inevitably kills in three weeks. After Willow becomes ill, Luna's desperation causes her to seek high and low for a solution. Meanwhile, the water sprite sisters Perdita and Pelagia prepare to leave the entire world they live in, because sprites can no longer share a world with humans. The fates of the two sets of sisters are more closely entwined than any of them would expect. Crowder's vividly observed setting, centered on a rooted and loving village community and that community's interdependence with the land and water, helps this simple-seeming story gain remarkable complexity and emotional resonance." -Publishers Weekly, vol 262, issue 25
Randoms by David Liss (Grades 5-8)
"Sixth-grader Zeke Reynolds is a second generation science fiction geek, so when he gets a top-secret opportunity to spend a year on a space station along with three other Earth kids, he leaps at it. It turns out that his fellow humans are all talented geniuses who shun Zeke for being the "random" pick, but on the space station, Zeke befriends two other young randoms of different species. Together, they set about trying to rack up skill points for themselves and their worlds, while simultaneously uncovering a deadly conspiracy that is undermining the Confederation of United Planets. Zeke may be a geek, but he's no nerd; his readiness with a clever retort or a bon mot makes for a formidable character and an entertaining read. The cliff-hanger ending promises more space shenanigans for Zeke and his friends. VERDICT: Fans of science fiction and nonstop action alike will enjoy this smart, light adventure that brims with allusions to a variety of sci-fi movies and TV shows old and new." -School Library Journal, vol 61, issue 8, p88
Guys Read: Terrifying Tales edited by Jon Scieska (Grades 4-6)
The Entirely True Story of the Unbelievable FIB by Adam Shaughnessy (Grades 3-5)
"Eleven-year-old Pru wants to be a detective like her father, who was a member of their small-town police force before he was killed. When a mysterious postcard appears under Pru's bedroom door asking "What is the unbelievable FIB?" she is ready to find out. Joined by new boy Abe, Pru is also curious about the strange weather in town and the unusual man she meets during a field trip to a local mansion that houses a museum of Viking artifacts. After a frost giant chases the two children through a graveyard, they are swept up into a magical quest. Debut author Shaughnessy skillfully weaves Norse myth, the story of Baba Yaga, and Pru's pain over her father's death into an action-packed story full of heart. Pru is relatable and real as she learns to trust people again, not to mention brave as she confronts ancient villains. It's a moving exploration of the ways people can close themselves off to magic in the world, as well as face grief scarier than any frost giant." -Publishers Weekly, vol 262, issue 26
Chapter Book ISBNs
Highlight and copy (right click or Ctrl-C) the ISBNs listed below, then paste them into the batch entry sections on our library vendor websites.
9781454914990
9781250043238
9780316380867
9780062414977
9781481441483
9780763668860
9780544056800
9780807570241
9781481417792
9780545682428
9780553497281
9781419708077
9780062274656
9781484717172
9780062385574
9780545448680
9781616204983
9780803741331
9781580896481
| | | | |
| --- | --- | --- | --- |
| ISBN | Title | Author | Grade Level |
| 9781454914990 | Zack Delacruz: Me and My Big Mouth | Anderson, Jeff | Grades 4-7 |
| 9781250043238 | Crenshaw | Applegate, Katherine | Grades 3-6 |
| 9780316380867 | The Thing about Jellyfish | Benjamin, Ali | Grades 5-8 |
| 9780062414977 | The Astounding Broccoli Boy | Cottrell Boyce, Frank | Grades 4-7 |
| 9781481441483 | A Nearer Moon | Crowder, Melanie | Grades 5-8 |
| 9780763668860 | Francine Poulet Meets the Ghost Raccoon | DiCamillo, Kate | Grades 1-4 |
| 9780544056800 | My Teacher is an Idiom | Gilson, Jamie | Grades 2-4 |
| 9780807570241 | Night On Fire | Kidd, Ronald | Grades 4-7 |
| 9781481417792 | Randoms | Liss, David | Grades 5-8 |
| 9780545682428 | A Night Divided | Nielsen, Jennifer A. | Grades 4-7 |
| 9780553497281 | The Seventh Most Important Thing | Pearsall, Shelley | Grades 5-8 |
| 9781419708077 | The Bamboo Sword | Preus, Margi | Grades 5-8 |
| 9780062274656 | Connect the Stars | Santos, Marisa de los | Grades 4-7 |
| 9781484717172 | The Pirate Code | Schulz, Heidi | Grades 5-8 |
| 9780062385574 | Guys Read: Terrifying Tales | Scieszka, Jon | Grades 4-6 |
| 9780545448680 | The Marvels | Selznick, Brian | Grades 4-6 |
| 9781616204983 | The Entirely True Story of the Unbelievable Fib | Shaughnessy, Adam | Grades 3-5 |
| 9780803741331 | Appleblossom the Possum | Sloan, Holly Goldberg | Grades 3-5 |
| 9781580896481 | Currents | Smolik, Jane Petrlik | Grades 3-7 |
Tags:
2015 Middle Grade Fiction
,
Author Visits
,
Elementary Book Lists
,
Fantasy Fiction
,
Historical Fiction
,
Humorous Fiction
,
News
,
Nikki Gregerson
,
Realistic Fiction
,
Science Fiction