Elementary Library Media October Picture Book Giveaways
Fire Engine No. 9
by Mike Austin (Preschool-Grade 1)

/* Starred Review */ "It's firefighters to the rescue in this action-packed homage to both the heroes and their truck. Under a calm, blue sky, firefighters wash Engine No. 9. But then, an alarm! Crew members whoosh down the pole and dash for their gear. Horns blast and sirens wail as cleverly designed onomatopoeic text creates an urgent, dynamic energy. The actual meaning of the text, composed almost entirely of repeated sounds ("BRRRRRIIING!"; "WEOOO!") and verbs ("HURRY!"; "CLIMB!"), is almost ancillary to its prominence as a design element, the large, blocky, sans serif words placed within illustrations for maximum effect. The firefighters follow the billowing black cloud to the blaze. With ladders, hoses, tools, and teamwork, they save a baby and extinguish the fire. The digital illustrations, with their strong color blocking and left-to-right drive, also play with format, as several vertical spreads thoughtfully emphasize the heights of the ladder and fire pole. A vivid, primary palette bursts from the page, as the Jolly Rancher-red engine sizzles with heat. Bold and energetic, and complete with fire-safety tips and fire-gear endpapers, this is one surefire win for the firefighter fan." -Kirkus Reviews, July 15, 2015

Drum Dream Girl: How One Girl's Courage Changed Music by Margarita Engle, illustrated by Rafael López (Grades 1-3)

/* Starred Review */ "Pura Belpré winner and Newbery honoree Engle, known for writing free-verse historical fiction, introduces readers to Millo Castro Zaldarriaga with this illustrated poem, inspired by her subject's childhood. Millo became a world-famous musician at quite a young age. Before fame, however, as Engle's account attests, there is struggle. Millo longs to play the drums, but in 1930s Cuba, drumming is taboo for girls, "so the drum dream girl / had to keep dreaming / quiet / secret / drumbeat / dreams." This doesn't stop Millo; she dares to let her talent soar, playing every type of drum that she can find. Her sisters invite her to join their all-girl band, but their father refuses to allow Millo to play the drums. Eventually, her father softens, connecting her with a music teacher who determines that her talent is strong enough to override the social stigma. The rhythmic text tells Millo's story and its significance in minimal words, with a lyricism that is sure to engage both young children and older readers. López's illustrations are every bit as poetic as the narrative, a color-saturated dreamscape that Millo dances within, pounding and tapping her drums. Though it's not explicit in the text, her mixed Chinese-African-Cuban descent is hinted at in the motifs López includes. A beautiful account of a young girl's bravery and her important contribution toward gender equality in the creative arts." -Kirkus Reviews, December 15, 2014

The Moon Is Going to Addy's House by Ida Pearle (Preschool-Grade 1)
/* Starred Review */ "Addy spots the moon as she leaves her city play date and marvels as it follows her all the way back to her country home. Cut-paper collages construct both urban and woodsy landscapes that throb with vitality. The papers (marbled, speckled, dotted, in floral and geometric designs) cohere effortlessly, creating wonderfully intoxicating illustrations. Their patterns undulate and swirl, producing roiling energy that describes both a city neighborhood humming with strollers, scooters, dogs, and skipping children as well as a windswept, buggy nighttime car ride back home to the country. Children will dote on details nestled in each illustration: flashy feathers on a blackbird's wing, apartment tenants perched in their windows, folds and patterns in clothing, the arch of a boat's sail. The moon remains ever present, popping up in different sizes, hues, quadrants of the sky. Breathtaking double-page spreads (in unabashed pinks, purples, and blues) show the moon duplicated, reflected, and enlarged across expanses of sky. Readers, like Addy, feel tethered to Pearle's moon and to her masterful pictures that manage to communicate the comforting reciprocity found in its presence. Back home, under a gigantic pulsing-pink moon, Addy understands, "It waits and watches over me, / always." Exquisite, electrifying, soothing, and soporific, brilliant in color and execution, this book beams." -Kirkus Reviews, May 1, 2015
In a Village by the Sea by Muon Van, illustrated by April Chu (Preschool-Grade 2)

/* Starred Review */ "Artist Chu (Summoning the Phoenix) and first-time author Van transport readers to a small seaside village. Opening with a scene of fishermen at work beside cliffs where a house is nestled ("In a fishing village by the sea/ there is a small house"), Van's circular, incantatory writing closes in on the house ("In that house/ high above the waves/ is a kitchen"), where a woman cooks, a dog explores, and a baby rests. Skillfully using a variety of visual perspectives, Chu's delicately detailed and colored illustrations invite close study; the fishermen's nets have a gauzy translucence, and papery garlic bulbs, veiny basil leaves, and softly glowing lanterns are all drawn with naturalistic care. As Van directs readers down a hole in the corner of the room, the story shifts into fantasy—beneath the floorboards, a cricket paints a majestic picture of a stormy sea, in which a fisherman (previously seen in the opening pages) longs to return to the woman and child in the hillside home. A lovely, resonant portrait of family life that hums with quiet magic." -Publishers Weekly, vol 262, issue 14

The New York Times recently featured the reviews of four notable picture books that are told in both Spanish and English, please find those reviews.
Maya's Blanket: La Manta de Maya by Monica Brown, illustrated by David Diaz (Kindergarten-Grade 3)
El Perro con Sombrero by Derek Taylor Kent, illustrated by Jed Henry (Kindergarten-Grade 2)
Little Chanclas by José Lozano (Preschool-Grade 2)
Mango, Abuela, and Me by Meg Medina, illustrated by Angela Dominguez (Grades 1-3)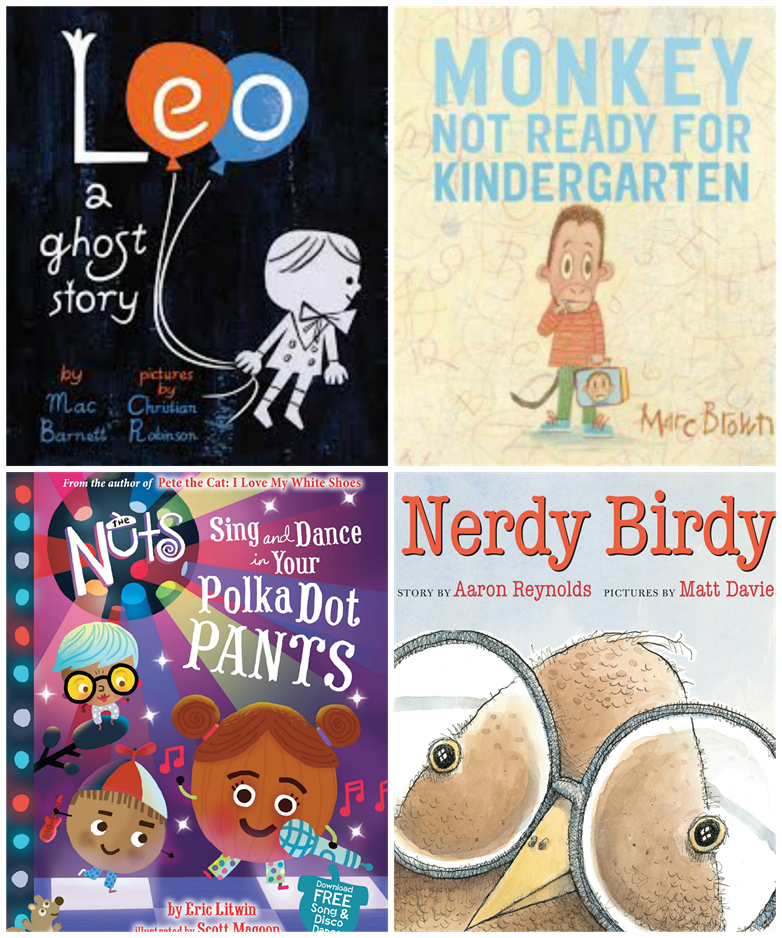 Leo: A Ghost Story by Mac Barnett, illustrated by Christian Robinson (Kindergarten-Grade 2)
/* Starred Review */ "When Leo, a ghost, finds the new inhabitants of his house unwelcoming, he takes to the streets. Luckily, he encounters the fantastically fun Jane, who believes he is an imaginary friend. When Leo helps catch a thief breaking into her house, he is forced to admit that he is not an imaginary friend but a real one. Fortunately, the unflappable Jane graciously takes this all in stride. Barnett's story is expectedly droll and told in deadpan prose. There's just enough of it to provide a canvas for Robinson's thoughtful illustrations. His palette is almost exclusively blue, but the contrast between the different tones is sharp, and the heavy doses of gray with hints of green soften much of the blue into a neutral tone. Robinson solves the issue of a white ghost on a white page smartly by depicting Leo as a blue outline on white paper. Leo beautifully contrasts with the geometrically composed live humans, and Robinson finds some clever opportunities for depicting Leo's transparency. The balance of texture and white space helps mitigate the many shades of blue, retaining visual interest and keeping the overall feel upbeat. VERDICT: A whimsical tale from Barnett aptly accompanied by enthralling artwork by Robinson. What's not to drool over?" – School Library Journal, vol 61, issue 9, p112

Monkey Not Ready For Kindergarten by Marc Brown (Preschool-Kindergarten)

"The opening pages show a frowning monkey on a lunch box. The uneven block-print text, with lines askew, reflects Monkey's hesitation about starting school. He's worried about everything, from studying to making friends. Happily, he has a supportive family who gives him confidence through role-playing and play dates, and by the time school starts, he's ready. Created with colored pencils and gouache, Brown's artwork captures Monkey's evolving emotions. Double-page spreads have plenty of movement as young Monkey progresses from resistance and fear to acceptance and joy. The final, wordless pages, showing his interaction with friends, feature lots of horizontal and vertical lines; order and harmony have been achieved! Pair with Monstergarten, by Daniel J. Mahoney (2013), for a different take on kindergarten fears." -Booklist, vol 111, number 19

The Nuts: Sing and Dance in Your Polka-Dot Pants by Eric Litwin, illustrated by Scott Magoon (Grades 1-2)

Free song and disco dance to accompany the book can be found HERE.

Nerdy Birdy by Aaron Reynolds, illustrated by Matt Davies (Kindergarten-Grade 3)

"The author of Creepy Carrots! (2012) takes a humorous look at avian friendships. The cool birdies (with their abs of steel, superior vision, and sculpted chest muscles) will have nothing to do with bespectacled, tiny-winged, allergic Nerdy Birdy, so he joins the other nerdy birds, who spend their time reading and playing World of Wormcraft. Then Vulture moves into the neighborhood, and neither group wants to hang out with the carrion-eating creature. Remembering what it's like to be lonely, Nerdy Birdy extends the wing of friendship and discovers that even though he and Vulture have few common interests, they like each other. Davies' detailed and slightly satirical illustrations reflect the influence of his years as an editorial cartoonist, especially in the spreads depicting the cool birdies demonstrating their impressive (labeled) attributes. This will work best as a one-on-one so that readers have a chance to fully absorb the illustrative details. Pair with Philip C. Stead's Hello, My Name Is Ruby (2013) for a different approach to bird friendships." -Booklist, vol 111, number 21, p64


Float by Daniel Miyares (Preschool-Grade 2)

I Am Yoga by Susan Verde, illustrated by Peter H. Reynolds (Preschool-Grade 2)
/* Starred Review */ "A young girl overwhelmed by her hectic world calms herself by practicing yoga. Drawing on her experience as a children's yoga instructor, author Verde reunites with Reynolds in their third collaboration (You and Me, 2015, etc.). Verde approaches yoga as more than mere physical exercise. Written in first person, the book flows with a young girl as she shifts from turmoil to self-regulated calm through a series of poses. The girl begins with the grounding deep breaths of mountain pose and continues through a complete yoga sequence, ending it with a restful savasana (relaxation pose). Her confident declarations that accompany each pose connect her body's movements with her inner emotions. Reynolds' expressive yet soothing watercolors transform each pose beyond its physicality into a full mind-body experience. "I can touch the sky. I am so tall," reads the text, while the girl, colored all in green, adopts the tree pose, flanked by real trees. The combination of Verde's tranquil words and Reynolds' playful interpretations will encourage young readers to mirror each pose before turning the page. Children will learn how yoga can be a tool to guide their emotions even when the outside world is beyond their control. An appendix illustrates the 16 poses from the book with detailed instructions that also include visualization exercises. Empowering affirmations and playful illustrations will inspire both children and adults to slow down and strike a pose." -Kirkus Reviews, July 15, 2015)

Picture Book ISBNs
Highlight and copy (right click or Ctrl-C) the ISBNs listed below, then paste them into the batch entry sections on our library vendor websites.
9780553510959
9781452131566
9780553496581
9780892392926
9780008126148
9780544102293
9781554987122
9781442480902
9780385389860
9780805099898
9780316322508
9781935955856
9780763669003
9781481415248
9781580896122
9780803740549
9780451471239
9781939547156
9781419716645

| | | | |
| --- | --- | --- | --- |
| ISBN | Title | Author | Illustrator |
| 9780553510959 | Fire Engine No. 9 | Austin, Mike | Austin, Mike |
| 9781452131566 | Leo A Ghost Story | Barnett, Mac | Robinson, Christian |
| 9780553496581 | Monkey Not Ready For Kindergarten | Brown, Marc | Brown, Marc |
| 9780892392926 | Maya's Blanket: La Manta de Maya | Brown, Monica | Diaz, David |
| 9780008126148 | Imaginary Fred | Colfer, Eoin | Jeffers, Oliver |
| 9780544102293 | Drum Dream Girl: How One Girl's Courage Changed Music | Engle, Margarita | Lopez, Rafael |
| 9781554987122 | Buddy and Earl | Fergus, Maureen | Sookocheff, Carey |
| 9781442480902 | We Forgot Brock! | Goodrich, Carter | Goodrich, Carter |
| 9780385389860 | I Will Chomp You! | John, Jory | Shea, Bob |
| 9780805099898 | El Perro con Sombrero | Kent, Derek Taylor | Henry, Jed |
| 9780316322508 | The Nuts: Sing and Dance in Your Polka-Dot Pants | Litwin, Eric | Magoon, Scott |
| 9781935955856 | Little Chanclas | Lozano, José | Lozano, José |
| 9780763669003 | Mango, Abuela, and Me | Medina, Meg | Dominguez, Angela |
| 9781481415248 | Float | Miyares, Daniel | Miyares, Daniel |
| 9781580896122 | I'm New Here | O'Brien, Anne Sibley | O'Brien, Anne Sibley |
| 9780803740549 | The Moon Is Going to Addy's House | Pearle, Ida | Pearle, Ida |
| 9780451471239 | Archie the Daredevil Penguin | Rash, Andy | Rash, Andy |
| 9781939547156 | In a Village By the Sea | Van, Muon | Chu, April |
| 9781419716645 | I Am Yoga | Verde, Susan | Reynolds, Peter |
Tags:
2015 Picture Books
,
Author Visits
,
Bilingual Picture Books
,
Elementary Book Lists
,
Friendship Picture Books
,
News
,
Nikki Gregerson
,
Spanish Picture Books