Study Hall of Justice (DC Comics: Secret Hero Society #1)
by Derek Fridolfs and Dustin Nguyen
Publisher's Description: This all-new story presents a twist on the idea of junior sleuths, using comics, journal entries, and doodles to reimagine Batman, Superman, and Wonder Woman as three students in the same school. They'll try their best to solve their case, but just because you're faster than a speeding bullet or more powerful than a locomotive, it doesn't mean you get to stay up past eleven.
Alabaster Shadows by Matt Gardner and Rashad Doucet (Grades 3-6)
"Carter, his sister, Polly, and his mom and dad have just moved to a new neighborhood, called Alabaster Shadows. At first, the matching houses seem boring, but Carter soon discovers that they hide a mysterious secret world filled with monsters and overseen by the creepy adults who know more than they let on. Carter must work with new friends to keep these adults from doing harm to his family, his school, and the rest of the community. Doucet's bright art, in a rich, saturated palette, is a striking introduction to the tale and draws readers in even before the action kicks off. He illustrates a modern, multicultural world filled with young characters with whom kids will identify, especially as they chafe at hostile adults and revel in the strange new worlds they discover. There is plenty of action to keep the story moving in this genre mash-up of fantasy, mystery, sci-fi, and horror, with just a touch of humor added to keep things from becoming too dark. Readers will eagerly await volume two." -Booklist, vol. 112, number 6, p36
Comics Squad Lunch! By Jennifer Holm
Collection of stories written about lunch. This collection features stories from Jennifer Holm, of Babymouse fame, Nathan Hale, our favorite Donner Dinner Party guest, and Cece Bell, a Newbery honor winner in 2015. This collection is a must-have for every library.
Unicorn on a Roll: Another Phoebe and Her Unicorn Adventure by Dana Simpson (Grades 3-5)
"Phoebe and her not-so-imaginary unicorn friend, Marigold Heavenly Nostrils, are back in this follow-up to Phoebe and Her Unicorn (2014). It's been a year since Phoebe's wish to be Marigold's best friend was granted, and their relationship has become quite comfortable. Whether dealing with first crushes, school plays, "boogergate," or wondering if humans are good or bad (Marigold thinks that "humans are . . . human. Unavoidably, lamentably, somewhat nauseatingly human") Phoebe always has a friend to rely on, and Marigold always has someone to admire her extraordinary beauty, her clever wit, and her exceptional modesty. The character designs for Phoebe and Marigold are charming, and the artwork is admirably consistent. As with volume 1, the comparison to Calvin and Hobbes is apt—it has a joke-a -day format with recurring themes and gentle, winning humor that often results in guffaws. Also like Calvin and Hobbes, there is a thin veneer of snarky cynicism that will keep older readers interested in the stories well beyond most children's magical-unicorn -loving phase." -Booklist, vol. 111, number 19, p68
March Grand Prix: The Fast and the Furriest by Kean Soo (Grades 2-4)
/* Starred Review */ "In what reads like a love letter to racing comics like Speed Racer, Soo (Jellaby) presents a highly entertaining trio of stories about March  Hare, a talented racer who's a good sport, too. In the first story, March must enlist the help of his large and enthusiastically supportive family to beat his win-at-all-costs competitor, Lyca Fox, in a street race; after March's hot hatch is damaged during the race, he borrows a side mirror and quarter panel from his parents' station wagon. In the second tale, March  and his eager porcine mechanic, Hammond, help one of March's  sisters deliver apple tarts in her VW bus; Soo labels various vehicles' features throughout, and he gives a hilarious schematic breakdown of the apple tarts, too, pointing out their "brown sugar butter glaze." The stories are filled with puns and literary references (March Hare's name evokes both Alice's Adventures in Wonderland and Speed Racer's Japanese name, Mach GoGoGo), while Soo's clear-line illustrations keep the stories moving full throttle and reveal an evident automotive passion." -Publishers Weekly, vol. 262, issue 28
The Frozen Menace by Ursula Vernon (Grades 3-4)
Eleventh book in the popular Dragonbreath series.
ISBNs
9780545825016

9781620102640

9780553512656

9781449470760

9781623701710

9780803739864
ISBNs

Title

Author

9780062303899


9780062334282


9780545905893


9780062415288 

Pete the Scuba Cat

Dean, James

Amelia Bedelia by the Yard

Parish, Herman

Lego Ninjago: Quest for Crystal

Scholastic

What this Story Needs is a Hush and a Shush

Virjan, Emma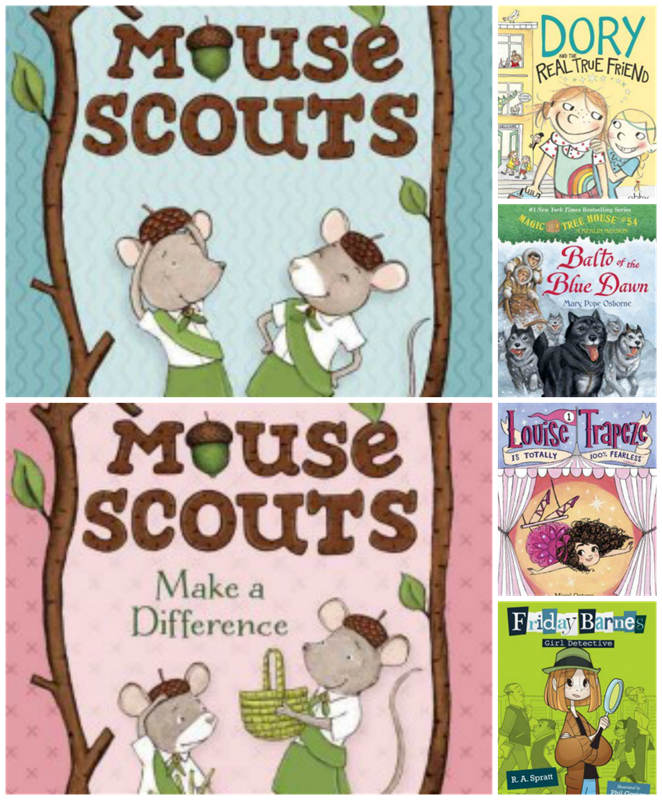 Tags:
2016 Children's Graphic Novels
,
2016 Early Chapter Books
,
2016 Easy Readers
,
Collection Development
,
Elementary Book Lists
,
News
,
Nikki Gregerson