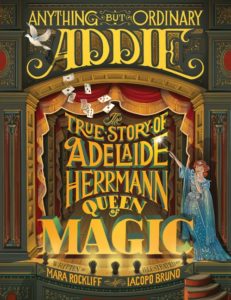 The True Story of Adelaide Herrmann, Queen of Magic
Written by Mara Rockliff, Illustrated by Iacopo Bruno
Addie starts out as a young girl who dreams of shocking and astonishing audiences. The story follows her through her amazing life first as a magician's assistant and then on to her having her own show. It is an excellent introduction to Adelaide Herrmann's life and left me wanting to learn more about her. The illustrations are rich and detailed. A good book to encourage students to break stereotypes as Addie did as a female magician. Students who like magic or history will like this book. It is short enough to be read aloud in one sitting.
Review by Jessica Riggs, Robert Frost Elementary Media Center
Rating: ★★★★½ (4.5 stars)
Interest Level: Grades 2-5
Anything But Ordinary Addie: The True Story of Adelaide Herrmann, Queen of Magic
Written by Mara Rockliff, Illustrated by Iacopo Bruno
Candlewick Press
48 pages
Release Date: April 12, 2016
A review copy was provided by the publisher.
Tags:
Adelaide Herrmann
,
Anything But Ordinary Addie
,
Biography
,
Biography Picture Books
,
Entertainers
,
History
,
Iacopo Bruno
,
Illustrated Nonfiction
,
Jessica Riggs
,
Magic
,
Magicians
,
Mara Rockliff
,
Nonfiction Picture Books
,
U.S. History
,
Women in History