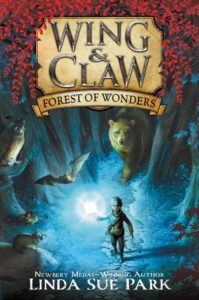 Wing & Claw, #1
Written by Linda Sue Park

At only 12 years old Raffa is already showing signs as a gifted apothecary. He has a sense for the right herbs and quantities to use and his potions always seem to work better than his cousin Garith's (who is also working to be an apothecary.) When Raffa comes upon an injured bat, he and his cousin venture into the Forest seeking a rare red vine that is rumored to enhance a potion's normal healing abilities. Now, because of this red vine, Raffa and his new-found friends are fighting a battle between right and wrong and good and evil. They find themselves not knowing who to trust and running for their lives from those who would abuse the power found within the rare, red vine.
This is a magical story with great characters, lots of adventure, and interesting animals. I look forward to recommending it to my students who love fantasy and adventure.
Review by Christine Fotheringham, Rolling Meadows Elementary Media Center
Rating: ★★★★✩ (4 stars)
Interest Level: Grades 2-6
Author Website: http://www.lindasuepark.com/
Wing & Claw, #1
Forest of Wonders
Written by Linda Sue Park
Harper, An Imprint of HarperCollins Publishers
343 pages
Release Date: March 1, 2016
A review copy was provided by the publisher.
Categories: Elem. – Fiction
Tags: fantasy, talking animals, apothecary, friendship, adventure
Tags:
2016 Middle Grade Fiction
,
Adventure Fiction
,
Animals Fiction
,
Apothecary Fiction
,
Bats Fiction
,
Christine Fotheringham
,
Fantasy Fiction
,
Forest of Wonders
,
Linda Sue Park
,
Plants Fiction
,
Wing & Claw