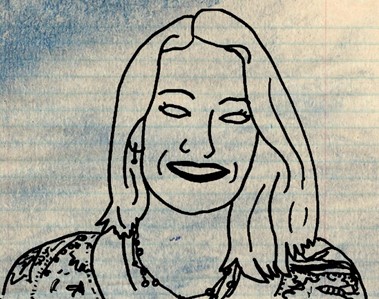 Jennifer is in her fifth year as a media clerk at South Kearns Elementary. She has done incredible work in that time, efficiently using a small space to fit a large collection of books while still managing to keep everything open and inviting.
What books are currently on your nightstand?

Too many! There's a pile or two. Currently, Sisters and Smile by Raina Telgemeier, Fablehaven by Brandon Mull, How to Speak Dolphin by Ginny Rorby, The Promise of the Atonement: Cure for Broken Dreams by Ester Rasband, Liars: How Liberals Exploit Our Fears for Power and Control by Glenn Beck, and Michael Vey: The Prisoner of Cell 25 by Richard Paul Evans.
What was the last great book you read?

A Night Divided by Jennifer A. Nielsen
The last book that made you cry?

Echo by Pamela Muñoz Ryan
The last book that made you laugh?

The Junie B. Jones books by Barbara Park (I know, a little juvenile).
What kind of reader were you as a child? What childhood books and authors stick with you the most?

As a child, I usually liked whatever my teacher was reading. I remember loving Ginger Pye by Eleanor Estes and Little Witch by Anna Elizabeth Bennett. My all-time favorite was The Lion, the Witch, and the Wardrobe by C.S. Lewis. It wasn't until I was a grown-up that I realized that it was part of a series. My favorite book in the series now is The Magician's Nephew, because it is where it all started.
What is the best book you were required to read as a student?

When I was in high school, I was required to read Tess of the D'Urbervilles by Thomas Hardy. It was the first long book I actually read and didn't cheat by getting the Cliff Notes for it.
What book did you hate reading as a student?

The Old Man and the Sea by Ernest Hemingway
What is your favorite book to recommend to children?

I love, love, love The Princes Academy by Shannon Hale, Wonder by R.J. Palacio, and Out of My Mind by Sharon Draper. I also like to recommend the Michael Vey series by Richard Paul Evans, Eragon by Christopher Paolini, and the Chronicles of Narnia series by C.S. Lewis.
If you could only bring three books to a desert island, which would you pack?

A journal for writing, a book about the animals and plant life on the island, and my scriptures.
Tags:
Book Recommendations
,
By the Book
,
Jennifer Ford