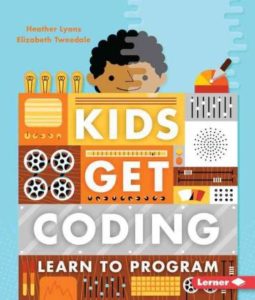 Kids Get Coding
Written by Heather Lyons and Elizabeth Tweedale, Illustrated by Alex Westgate

Coding is becoming a topic for the very young. This book does not teach a computer coding language such as Python or Scratch. It does introduce students to how a computer "thinks" and what steps need to be included in a program in order for the computer to understand what needs to be done. It teaches what computer coding is rather than how to code. The book is basic and easy to understand for most students second grade and up.
Review by Teresa Edmunds, Westbrook Elementary Media Center
Rating: ★★★★✩ (4 stars)
Interest Level: Grades 2-4
This was the most enjoyable book for kids. They love solving the codes and seeing if they did the right commands. We should get more books on coding. It is the "cool thing" for students these days and really makes them think.
Review by Barbara Lowe, Teacher, Mill Creek Elementary
Rating: ★★★★★ (5 stars)
Interest Level: Grades K-3
Kids Get Coding
Learn to Program
Written by Heather Lyons and Elizabeth Tweedale, Illustrated by Alex Westgate
Lerner Publications
24 pages
Release Date: August 1, 2016
A review copy was provided by the publisher.
Tags:
2016 Children's Nonfiction
,
Alex Westgate
,
Barbara Lowe
,
Computer Coding
,
computer languages
,
computer processing
,
Elizabeth Tweedale
,
Heather Lyons
,
Kids Get Coding
,
Learn to Program
,
problem solving
,
Teresa Edmunds