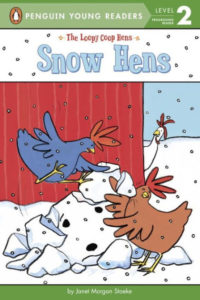 The Loopy Coop Hens
Written and Illustrated by Janet Morgan Stoeke

This is the fourth book in The Loopy Coop Hens series by Janet Morgan Stoeke, but it is the first one that I've read. It is an easy reader book (Penguin Young Readers, Level 2, Progressing Reader), so the language is simple and repetitiv,e which is great for beginning and growing readers. The story line is one that children will be able to relate to with the chickens' silly squabbles and the creative art twist. The illustrations are colorful and fun, especially the faces the chickens make. More suburban and urban families are choosing to have "backyard chickens" as pets, so this series is very timely with the fun and crazy personalities that families may get to experience.
Review by Jennifer Ford, South Kearns Elementary Media Center
Rating: ★★★★✩ (4 stars)
Interest Level: Grades K-3
The Loopy Coop Hens
Snow Hens
Written and Illustrated by Janet Morgan Stoeke
Penguin Young Readers, an imprint of Penguin Random House
32 pages
Release Date: November 8, 2016
A review copy was provided by the publisher.
Tags:
2016 Early Chapter Books
,
2016 Easy Readers
,
Art
,
Chickens
,
Creativity
,
easy reader
,
fighting
,
Fox
,
Friends
,
getting along
,
hens
,
Janet Morgan Stoeke
,
Jennifer Ford
,
rooster
,
Snow
,
Snow Hens
,
snowman
,
The Loopy Coop Hens