Renee has been a media clerk for 29 years and was an assistant to the librarian at her children's' school for three years prior.
What books are currently on your nightstand?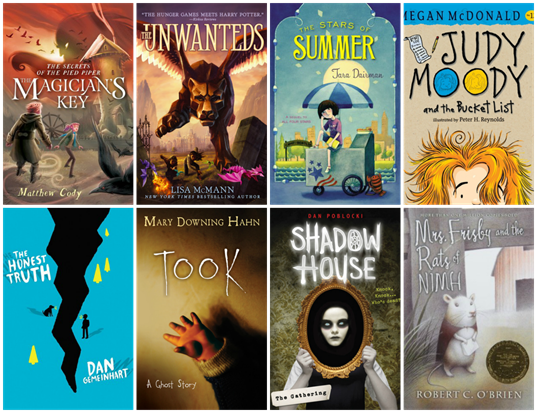 I have a bunch because sometimes I read several books at once. Then I have the habit of adding more! Right now, these are my books: The Magician's Key by Matthew Cody, The Unwanteds by Lisa McMann, The Stars of Summer by Tara Dairman, Judy Moody and the Bucket List by Megan McDonald, The Honest Truth by Dan Gemeinhart, Took: A Ghost Story by Mary Downing Hahn, Shadow House by Dan Poblocki, Mrs. Frisby and the Rats of NIMH by Robert C. O'Brien (for Battle of the Books).
What was the last great book you read?

It's usually (but not always) the last book I read, but The Honest Truth by Dan Gemeinhart really left a deep impression on me. Mark's struggles with cancer and his determination to climb Mt. Rainier with his ever faithful dog Beau, well, I just loved the story.
The last book that made you cry?

The Honest Truth by Dan Gemeinhart, once again. I still tear up every time I think of this powerful story. I do have to give mention to Rain Reign by Ann M. Martin too. I was reading this book to my husband while on a road trip and we both cried.
The last book that made you laugh?

There are a lot of books that make me smile, but when I read Mother Bruce by Ryan T. Higgins, I just laughed so much! The expressions on the bear's face and those cute little goslings constantly following him saying "Mama," well I thought it was very funny. For chapter books, my all-time favorite is The Series of Unfortunate Events by Lemony Snicket.
What kind of reader were you as a child? What childhood books and authors stick with you the most?

As a child, I really didn't like to read that much. I was too busy playing outside. But I loved listening to my mother read fairy tales, sometimes she would read them in funny voices and we would laugh and laugh. We moved right before my 5th grade year and the girl next door to our new house had every Nancy Drew book (at that time). She let me borrow the first one and I was hooked. I've loved reading children's literature ever since.
What is the best book you were required to read as a student?

I loved A Tale of Two Cities by Charles Dickens. It was such a great story of love, heroism, and sacrifice. As a young high school girl, it was a favorite. I still love it today.
What book did you hate reading as a student?

My older sister and her friends warned me that in 9th grade, it was required to read Silas Marner by George Eliot. Maybe it was partially their influence, but I hated that book! I don't even remember if I finished it. I should probably give it a second chance- on second thought- no.
What is your favorite book to recommend to children?

I love Kate DiCamillo and everything she writes. Her words are magic to me- she is such a gifted author. So I always recommend her books because they are all my favorites.
If you could only bring three books to a desert island, which would you pack?

I would take scriptures for inspiration and peace, The Tale of Desperaux by Kate DiCamillo for magic and strength and A Light in the Attic or Where the Sidewalk Ends by Shel Silverstein for laughter.
Tags:
Book Recommendations
,
By the Book
,
Renee Larsen