Angela has been a media clerk for Granite School District for eight years. She has created a warm space for the students at Hillside Elementary, and does a great job in promoting the Beehive Book Awards.
What books are currently on your nightstand?

I have five unpublished books right now that I am trying to read and edit for my sister-in-law. Along with those are some religious self-help books that I am hoping will slowly just sink in while I am sleeping.
What was the last great book you read?

Harry Potter and the Cursed Child by J.K. Rowling
The last book that made you cry?

Waiting for Normal by Leslie Connor
The last book that made you laugh?

One that was not appropriate for children!
What kind of reader were you as a child? What childhood books and authors stick with you the most?

I was an avid reader as a child, I read everything I could get my hands on. The book I remember most was A Tree Grows in Brooklyn by Betty Smith. I went back and read it as an adult and loved it just as much.
What is the best book you were required to read as a student?

To Kill a Mockingbird by Harper Lee
What book did you hate reading as a student?

Can't remember it has been way too long.
What is your favorite book to recommend to children?

Books by Shannon Hale and the Magic Tree House series by Mary Pope Osborne
If you could only bring three books to a desert island, which would you pack?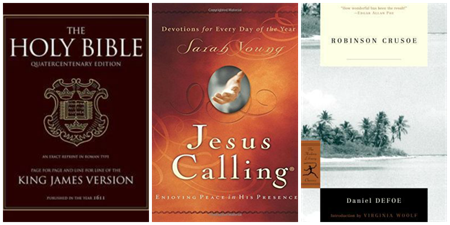 The Holy Bible, Jesus Calling: Enjoying Peace in His Presence by Sarah Young, and Robinson Crusoe by Daniel DeFoe
Tags:
Angela Pratt
,
Book Recommendations
,
By the Book