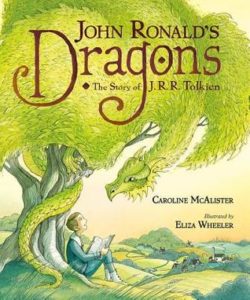 The story of J.R.R. Tolkien
Written by Caroline McAlister, Illustrated by Eliza Wheeler

It is true. John Ronald loved dragons. Therefore, it is no surprise that the major villain in his book, The Hobbit, is a dragon. Carolyn McAlister and Eliza Wheeler capture the essence of J.R.R. Tolkien's life, imagination, and love of dragons beautifully in their book, "John Ronald's Dragons." What they also capture so well is his not-so-perfect childhood and his struggle to become the great literary figure he was and is still considered today. The text simply tells his story and the artwork is stunning. Every drawing of smoke curling in the illustrations reminded me of dragons. You must see this extraordinary biography to appreciate the beauty. My husband did his thesis on Tolkien and we love his works as a family. When I saw this book for review, I just had to have it and I was not disappointed. I highly recommend this book.
Review by Renee Larsen, Hillside Elementary Media Center
Rating: ★★★★★ (5 stars)
Interest Level: Grades K-3, or anyone who loves Tolkien
John Ronald's Dragons: The story of J.R.R. Tolkien
Written by Caroline McAlister, Illustrated by Eliza Wheeler
Roaring Brook Press
39 pages
Release Date: March 1, 2017
A review copy was provided by the publisher.
Tags:
Authors
,
Biography
,
Biography Picture Books
,
Caroline McAlister
,
Dragons
,
Eliza Wheeler
,
fantasy
,
Folklore
,
J.R.R. Tolkien
,
John Ronald's Dragons
,
Mythology
,
Renee Larsen