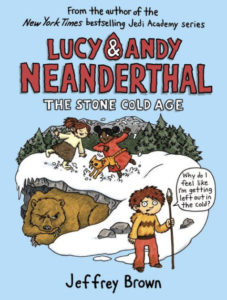 Lucy & Andy Neanderthal, #2
Written and Illustrated by Jeffrey Brown
Siblings Lucy and Andy are at it again trying to survive Neanderthal living, family life, the crowded cave and each other. It's still 40,000 years ago, winter is upon them and it's cold and snowy. This second book in the series picks up right where the first book left off. It gives a brief back story in the beginning to transition into this book, Lucy and Andy Neanderthal-The Stone Cold Age. This book is just as funny and perfectly captures sibling behavior. Readers will easily identify with the characters and their antics as they interact with family, each other and all the humans who are crowded into their cave. Each chapter is a short and humorous graphic story of their daily life (hunting, playing musical instruments, making friends, playing games, etc.) followed by actual facts about life in that time period. The illustrations are very funny and some will make you laugh out loud. Kids love funny books and this graphic series is ideal for our libraries. This book was an ARC copy and the finished copy will be published on August 29, 2017, just in time for Fall book ordering. This will definitely be on my list!
Review by Renee Larsen, Hillside Elementary Media Center
Rating: ★★★★★ (5 stars)
Interest Level: Grades 3-7
Lucy & Andy Neanderthal, #2
The Stone Cold Age
Written and Illustrated by Jeffrey Brown
Crown Books for Young Readers
224 pages
Release Date: August 29, 2017
A review copy was provided by the publisher.
Tags:
2017 Children's Graphic Novels
,
Brothers and Sisters Fiction
,
Humorous Fiction
,
Humorous Graphic Novels
,
Ice Age Fiction
,
Jeffrey Brown
,
Lucy & Andy Neanderthal
,
Neanderthals Fiction
,
Prehistoric Fiction
,
Renee Larsen
,
The Stone Cold Age