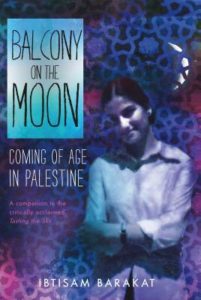 Coming of Age in Palestine
Written by Ibtisam Barakat

Balcony on the Moon gives you an insight on life in the West Bank under Israeli rule. The story is told through the eyes of a young Palestinian girl in the 1970s. You follow along with her as she is growing up and stepping out of social standards for women. It all starts when they have to move from their home. She has a father who struggles to provide for his family, dealing with his narcolepsy and risking his life daily. A family who is willing to die together if that is what it takes, who live in an area that has constant political unrest, even until today. You get to see life and live in her culture through her eyes. You learn along with her Palestinian culture, and what we might call strange is her "norm." She helps her mother become educated despite the expectations held for women. You see her go beyond what others think and see what she accomplished, including defying her parents when it comes to an unexpected suitor. She paints a vivid picture of life in the West Bank. Truly inspirational.
Review by Rejoice Potja, Student, Evergreen Junior High School
Rating: ★★★★★ (5 stars)
Interest Level: Grades 7 to 12
Balcony on the Moon: Coming of Age in Palestine
Written by Ibtisam Barakat
Farrar Straus Giroux Books for Young Readers
217 pages
Release Date: October 25, 2016
A review copy was provided by the publisher.
Tags:
2016 YA Nonfiction
,
Autobiography
,
Balcony on the Moon
,
Biography
,
Ibtisam Barakat
,
Israel
,
Memoir
,
Palestine
,
Rejoice Potja
,
Student Reviews
,
West Bank