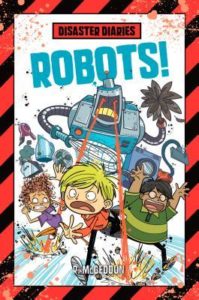 Disaster Diaries
Written by R. McGeddon, Illustrated by Jamie Littler
The three friends are at it again. This time their adventure involves Art's robot, CHARLES, his science fair project that goes crazy. When the CHARLES short circuits, he tries to clean away humanity. Can the three friends work together to stop him in time? On top of stopping runaway robots, they must also stop Earl Brute from taking over their town, Sitting Duck. This story made me laugh a LOT. I recommend it for 4th grade through 6th grade.
Review by Jensen Edmunds, Student, Westbrook Elementary School
Rating: ★★★★✩ (4 stars)
Interest Level: Grades 4-6
Disaster Diaries
Robots!
Written by R. McGeddon, Illustrated by Jamie Littler
Imprint
171 pages
Release Date: May 23, 2017
A review copy was provided by the publisher.
Tags:
2017 Middle Grade Fiction
,
Apocalyptic Fiction
,
Artificial Intelligence Fiction
,
Disaster Diaries
,
Humorous Fiction
,
Jamie Littler
,
Jensen Edmunds
,
R. McGeddon
,
Robots
,
Robots Fiction
,
Science Fiction
,
Student Reviews
,
Teamwork Fiction