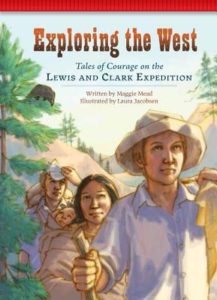 Tales of Courage on the Lewis and Clark Expedition
Written by Maggie Mead, Illustrated by Laura Jacobsen

In 1804, President Thomas Jefferson sent Lewis and Clark and 33 adventures to explore the vast land west of the Mississippi River. The company included slaves and women. The U.S. had just purchased the land from France and Jefferson wanted to have an exploration party go out and see what was out there. They were hoping to discover new plants, animals and friendly Indians. This book is written in a play format, so it is written as if people are speaking. It is very informative. The book tells how far the explorers went to ensure their entire team had an equal voice in decision making. This is a good book about the expedition.
Review by Debbie Woolsey, Westbrook Elementary Media Center
Rating: ★★★½✩ (3.5 stars)
Interest Level: Grades 2-5
Exploring the West: Tales of Courage on the Lewis and Clark Expedition
Written by Maggie Mead, Illustrated by Laura Jacobsen
Red Chair Press
40 pages
Release Date: January 1, 2015
A review copy was provided by the publisher.
Tags:
Debbie Woolsey
,
Explorers
,
Exploring the West
,
Geography
,
History
,
Laura Jacobsen
,
Lewis and Clark Expedition
,
Maggie Mead
,
Meriwether Lewis
,
Native Americans
,
Sacagawea
,
U.S. History
,
Western United States
,
William Clark