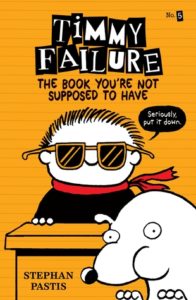 Timmy Failure, #5
Written and Illustrated by Stephan Pastis
Timmy Failure #5 is silly, goofy, and fun! And that is just what it is supposed to be. After fleeing criminals in book #4, Timmy's mom grounds him from being a detective for 6 months. Using his superior negotiation skills, Timmy only has to wait until summer break to reopen his agency…that is, if he can bring his grades up, endure piano lessons, and survive his crazy cousins, Larry and Merry. There is a small mystery, but most of the book is a hilarious recounting of Timmy's everyday adventures. (I especially enjoyed his visit to the orthodontist, Mr. A. Goni. So clever.) Both fans and newcomers to the series will love this book.
Review by Teresa Edmunds, Westbrook Elementary Media Center
Rating: ★★★★✩ (4 stars)
Interest Level: Grades 4-7
Timmy Failure, #5
The Book You're Not Supposed to Have
Written and Illustrated by Stephan Pastis
Candlewick Press
274 pages
Release Date: September 27, 2016
A review copy was provided by the publisher.
Tags:
2016 Middle Grade Fiction
,
Cousins Fiction
,
Detectives Fiction
,
Humorous Fiction
,
Mothers and Sons Fiction
,
Mystery Fiction
,
Stephan Pastis
,
Teresa Edmunds
,
The Book You're Not Supposed to Have
,
Timmy Failure