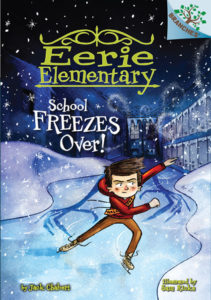 Eerie Elementary, #5
Written by Jack Chabert, Illustrated by Sam Ricks
Although I haven't read any of the Eerie Elementary books before, I could follow the plot just fine. Orson Eerie designed Eerie Elementary and in order to live forever, he became the school. Orson wants to come back to his human form and hatches many evil plans to accomplish his goal. Only three students know the truth about the school and Orson's plans. In this book, a severe storm literally hits the school. The heat shuts down. Ice forms. Even a frigid tornado threatens the school! If the school reaches 13 degrees, Orson will return as a human and all the students will be in danger. The three friends must stop him. Chabert does a great job building suspense and keeping up a fast pace without losing the story-line. A really fun book and a great series.
Review by Teresa Edmunds, Westbrook Elementary Media Center
Rating: ★★★★✩ (4 stars)
Interest Level: Grades 2-5
Eerie Elementary, #5
School Freezes Over!
Written by Jack Chabert, Illustrated by Sam Ricks
Branches/Scholastic Inc.
90 pages
Release Date: November 29, 2016
A review copy was provided by the publisher.
Tags:
2016 Early Chapter Books
,
Blizzards Fiction
,
Eerie Elementary
,
Elementary Schools Fiction
,
Friendship Fiction
,
Haunted Houses Fiction
,
Horror Fiction
,
Jack Chabert
,
Sam Ricks
,
School Freezes Over!
,
Storms Fiction
,
Suspense Fiction
,
Teresa Edmunds
,
Winter Fiction