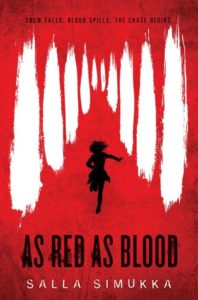 As Red as Blood Trilogy, #1
Written by Salla Simukka, Translated by Owen F. Witesman
Set in the nordic country of Finland, this first book in a trilogy is an edgy mystery that will lure those who enjoy a good mystery back for more. This story has elements of the fairy tale Snow White woven throughout the book.
Lumikki is a good student who attend a private school. She has a personal rule to never get involved. But, when she finds thousands of dollars hung up to dry in the photo lab at school she is thrust into a web of lies and deception.
Review by Michelle Asay, Granger High School Media Center
Rating: ★★★½✩ (3.5 stars)
Interest Level: YA
As Red as Blood Trilogy, #1
As Red as Blood
Written by Salla Simukka, Translated by Owen F. Witesman
Crown
244 pages
Release Date: January 17, 2017
A review copy was provided by the publisher.
Tags:
2017 YA Fiction
,
Art Schools Fiction
,
Deception Fiction
,
Drug Traffic Fiction
,
Fairy Tales Fiction
,
Finland Fiction
,
Friendship Fiction
,
Money Fiction
,
Murder Fiction
,
Mystery Fiction
,
Snow White