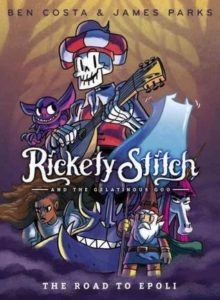 Rickety Stitch and the Gelatinous Goo, #1
Written by Ben Costa and James Parks, Illustrated by Ben Costa
Interesting story about a skeleton and his blob friend. They are on a quest to find out where Rickety (the skeleton) came from and why he has memories of a song. They have encounters with goblins, gnomes, unicorns and imps. The graphics are a little gross and there is some language.
Review by Maria Bucio, Diamond Ridge Elementary Media Center
Rating: ★★★✩✩ (3 stars)
Interest Level: Grades 5-8
Rickety Stitch and the Gelatinous Goo, #1
The Road to Epoli
Written by Ben Costa and James Parks, Illustrated by Ben Costa
Alfred A. Knopf
208 pages
Release Date: June 6, 2017
A review copy was provided by the publisher.
Tags:
2017 Children's Graphic Novels
,
2017 YA Graphic Novels
,
Adventure Graphic Novels
,
Ben Costa
,
Fantasy Fiction
,
Fantasy Graphic Novels
,
Identity Fiction
,
James Parks
,
Maria Bucio
,
Minstrels Fiction
,
Rickety Stitch and the Gelatinous Goo
,
Skeletons Fiction
,
The Road to Epoli