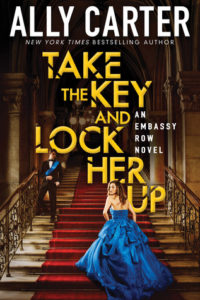 Embassy Row, #3
Written by Ally Carter
Grace is out to prove that 200 years ago, one member of the royal family was saved and hidden during a coup. The royal family and the women of a secret society do not want the proof found because it will upset the balance of power in Adria, so they are trying to kill her because she is a descendant of the lost princess and a real heir to the throne.
Review by Connielyn Perkins, West Lake Jr. Media Center
Rating: ★★★★✩ (4 stars)
Interest Level: Grades 6-12
Embassy Row, #3
Take the key and Lock Her Up
Written by Ally Carter
Scholastic Press
327 pages
Release Date: December 27, 2016
A review copy was provided by the publisher.
Tags:
2016 YA Fiction
,
Adventure Fiction
,
Ally Carter
,
Assassination Fiction
,
Brothers and Sisters Fiction
,
Connielyn Perkins
,
Conspiracies Fiction
,
Diplomats Fiction
,
Embassies Fiction
,
Embassy Row
,
Europe Fiction
,
Murder Fiction
,
Mystery Fiction
,
Royalty Fiction
,
Secret Societies Fiction
,
Take the Key and Lock Her Up