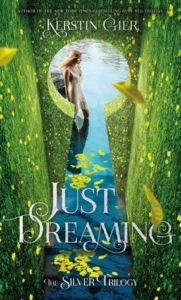 The Silver Trilogy, #3
Written by Kerstin Gier
This book is perfect for the young adult interested in teen drama that includes weird dream worlds, demons, and deadly dream societies. Just Dreaming by Kerstin Gier is the third book in The Silver Trilogy. The Silver Trilogy follows Liv Silver, her handsome boyfriend Henry, and her future step-brother Grayson who are out to prove that demons don't exist. The three go into the dream world and Liv continues to focus as an anxious 16-year-old virgin who is embarrassed to tell her boyfriend that she hasn't had sex before. In the end Liv realizes that it is okay to wait, and her boyfriend is supportive of her although she does obsess over it quite extensively in the third book of the trilogy. Readers expecting a work impressive as The Ruby Red Trilogy may be disappointed.
Review by Mari Carroll, Teacher West Lake STEM Junior High
Rating: ★★★✩✩ (3 stars)
Interest Level: Grades 8-12
The Silver Trilogy, #3
Just Dreaming
Written by Kerstin Gier, Translated from the German by Anthea Bell
Henry Holt and Company
368 pages
Release Date: May 2, 2017 (USA)
A review copy was provided by the publisher.
Tags:
2017 YA Fiction
,
Demonology Fiction
,
Dreams Fiction
,
England Fiction
,
Fantasy Fiction
,
German Fiction
,
Horror Fiction
,
Just Dreaming
,
Kerstin Gier
,
London Fiction
,
Mari Carroll
,
Paranormal Fiction
,
Romance Fiction
,
The Silver Trilogy
,
Translated Fiction