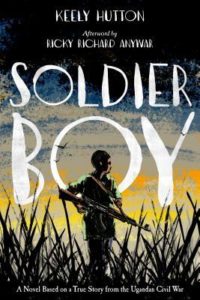 Read this book in Granite's OverDrive Digital Library
Written by Keely Hutton

This book is based on the experiences of Ricky Richard Anywar, who was a child soldier in the Ugandan Civil War in the late 80s, early 90s. The book talks about his experience from the time he was essentially kidnapped into the child soldier world until his escape from it. It was definitely an eye opening book that makes you realize the things we take for granted. Soldier Boy is a book full of heartbreak but also hope. I really liked the story, and the takeaway, and feel that everyone should read this book.
Review by Jessica Coffey, Hunter High School Media Center
Rating: ★★★★★ (5 stars)
Interest Level: Grades 9-12
Soldier Boy
Written by Keely Hutton
Farrar Straus Giroux
326 pages
Release Date: June 13, 2017
A review copy was provided by the publisher.
Tags:
2017 YA Fiction
,
Africa Fiction
,
Child Soldiers Fiction
,
Historical Fiction
,
Jessica Coffey
,
Keely Hutton
,
Realistic Fiction
,
Ricky Richard Anywar
,
Soldiers Fiction
,
Uganda Fiction
,
War Fiction