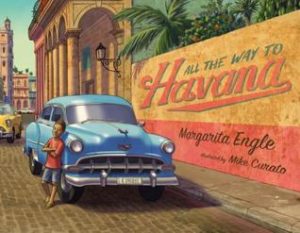 Read this book in Granite's OverDrive Digital Library
Written by Margarita Engle, Illustrated by Mike Curato
This beautiful picture book takes us on a trip through Cuba, where we see the poverty, resourcefulness, and vibrant color of the people and their old cars, that In many cases are kept in families for generations. As a family prepares to attend the birth of a new family member, they must repair and drive their old beat up, funny sounding blue car all the way to Havana. Told in prose, with fun to read aloud sounds an old car makes, this is a vibrant, engaging book. I loved the end papers that illustrate many pre-1960s cars.
Review by Terrie Bishop, Academy Park Elementary Media Center
Rating: ★★★★✩ (4 stars)
Interest Level: Grades 2-5
All the Way to Havana
Written by Margarita Engle, Illustrated by Mike Curato
Godwin Books/ Henry Holt and Company
40 pages
Release Date: August 29, 2017
A review copy was provided by the publisher.
Categories: Elem. – Picture Book
Tags: Cuba, family, cars, picture book
Tags:
2017 Picture Books
,
All the Way to Havana
,
Caribbean Picture Books
,
Cars Picture Books
,
Cuba
,
Cuba Picture Books
,
Family Picture Books
,
Margarita Engle
,
Mike Curato
,
Road Trip Picture Books