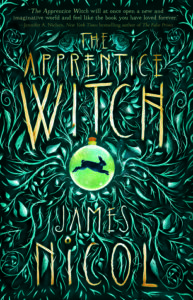 Read or Listen to this book in Granite's OverDrive Digital Library
Written by James Nicol
This is the story of a young girl who has been studying to be a witch. During an assessment, the machine that test a witch's ability blows up, so she is sent to a small town as only a apprentice witch to help the town with an infestation of supernatural creatures. Along the way she becomes friends with some of the people of the town. The mayor's niece, who is supposed to be a full fledged witch, comes to town to "help" but is not a very good witch. This is a story that proves that not everything is as it seems in the beginning and someone who thinks they're less able to do something, are proved to be better then someone who thinks they can do no wrong.
Review by Martia Schulze, Western Hills Elementary
Rating: ★★★★★ (5 stars)
Interest Level: 5th grade onward
The Apprentice Witch
Written by James Nicol
Chicken House, an imprint of Scholastic Inc.
318 pages
Release Date: July 25, 2017
A review copy was provided by the publisher.
Tags:
Adventure Fiction
,
Apprentices Fiction
,
Fantasy Fiction
,
Good and Evil Fiction
,
James Nicol
,
Magic Fiction
,
Martia Schulze
,
Self-Confidence Fiction
,
Self-Esteem Fiction
,
The Apprentice Witch
,
Witches Fiction