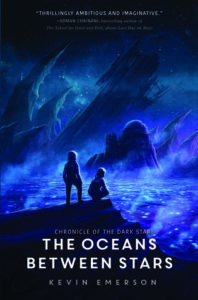 Read this book in Granite's OverDrive Digital Library
Chronicle of the Dark Star, #2
The Oceans Between Stars
Written by Kevin Emerson
This is the second volume in the Chronicle of the Dark Star series. These books read like Robert A. Heinlein juvenile books. This book starts after the destruction of our solar system by our sun going supernova. The main characters are a boy and girl who are accidentally left behind when the last colony ship leaves for a new planet. There are aliens, time travelers, and bad guys who are the cause of the sun going nova. I can't wait for book 3.
Review by Martia Schulze, Western Hills Elementary
Rating: ★★★★★ (5 stars)
Interest Level: 6th through 12th Grade
Chronicle of the Dark Star, #2
The Oceans between stars
Written by Kevin Emerson
Walden Pond Press, an imprint of HarperCollinsPublishers
407 pages
Release Date: February 13, 2018
A review copy was provided by the publisher.
Tags:
2018 Children's Fiction
,
Brothers and Sisters Fiction
,
Chronicle of the Dark Star
,
Kevin Emerson
,
Life on other Planets Fiction
,
Martia Schulze
,
Outer Space Fiction
,
Science Fiction
,
Space Travel Fiction
,
Survival Fiction