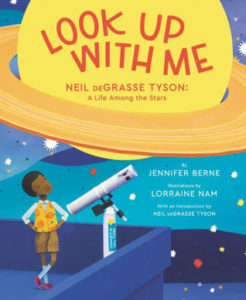 Neil DeGrasse Tyson: A Life Among the Stars
Written by Jennifer Berne, Illustrated by Lorraine Nam

From the moment you set eyes upon the end papers of Look Up with Me, you will be enthralled with this biography picture book about Neil DeGrasse Tyson, Astrophysicist and Director of NYC's Hayden Planetarium. The end papers are drawings of the constellations, which is a wonderful way to introduce this book. Neil says, "Scientists are kids who never lost their natural childhood curiosity about the world."
You will learn how Neil's fascination with the universe began as a small boy, staring out of his window at night. A field trip to the Hayden Planetarium was life- changing. It motivated him to get a job walking dogs to earn money for a telescope, which he set up on the roof of his apartment building. He began lecturing and traveling as a teenager to share his knowledge, thoughts and research.
This is an inspiring, interesting, picture biography of a living legend. It would be great for a read aloud, or to spend lots of time with pouring over all the information available in these pages. I highly recommend this book.
Review by Terrie Bishop, Academy Park Elementary Media Center
Rating: ★★★★★ (5 stars)
Interest Level: Grades 3-6
Look Up With Me – Neil DeGrasse Tyson: A life among the stars
Written by Jennifer Berne, Illustrated by Lorraine Nam
Katherine Tegen Books, an imprint of HarperCollins Publishers
40 pages
Release Date: February 5, 2019
A review copy was provided by the publisher.
Tags:
2019 Children's Nonfiction
,
astronomy
,
Astrophysics
,
Biography
,
Biography Picture Books
,
Jennifer Berne
,
Lorraine Nam
,
Neil deGrasse Tyson
,
New York City
,
Scientists
,
Space
,
Terrie Bishop