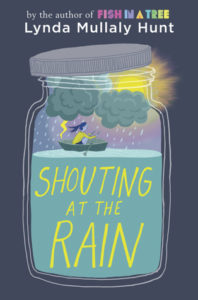 Read or Listen to this book in Sora, Granite's Digital Library
Written by Lynda Mullaly Hunt
The main character is a girl who is an orphan. She wants to figure out more about her mother and find out who her father is. She also meets this strange kid dressed in all black and has to discover who he is. She is fascinated with the weather, and when the weather gets ugly things may change for them. I liked this book. At first it was hard to get into, but then I ended up enjoying it.
Review by Gwen McFall, Student, Fox Hills Elementary
Rating: ★★★★✩ (4 stars)
Interest Level: Grades 4-6
Shouting at the Rain
Written by Lynda Mullaly Hunt
Nancy Paulsen Books
288 pages
Release Date: May 7, 2019
A review copy was provided by the publisher.
Tags:
2019 Children's Fiction
,
Cape Cod Fiction
,
Family Life Fiction
,
Grandmothers Fiction
,
Gwen McFall
,
Lynda Mullaly Hunt
,
Massachusetts Fiction
,
Orphans Fiction
,
Realistic Fiction
,
Student Reviews
,
Weather Fiction