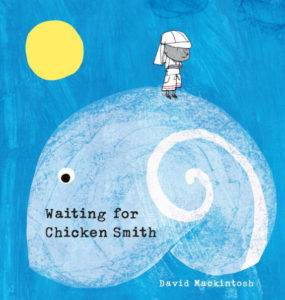 Written and Illustrated by David Mackintosh
"What is taking Chicken Smith so long, anyway?"
The story explores remembering the familiar without missing out on the new. A young boy is waiting for Chicken Smith to arrive at the beach. Like summers past, he expects this summer to be the same; one spent at the beach with his friend named Chicken Smith. The boy reminisces about Chicken Smith so beautifully that it almost feels like you were there sharing the friendship and experiences. But he waits and waits and waits until he decides that Chicken Smith is taking too long and he is missing out on everything. His sister keeps calling to him. The boy finally asks, "what do you want?" and follows her. He then discovers new, unexpected things and makes an unexpected friend. Life is full of the familiar but also has the inevitability of change. The book does an amazing job of capturing both! It is a masterfully written story and the illustrations are as magical as the story. I loved it!
Review by Heidi Reed, Media Clerk, Morningside Elementary
Rating: ★★★★★ (5 stars)
Interest Level: 1st-4th Grade
Author/Illustrator Website: https://www.profuselyillustrated.com/picbook-nav
Waiting for Chicken Smith
Written and Illustrated by David Mackintosh
Candlewick Press
32 pages
Release Date: May 14, 2019 (USA)
ISBN: 9781536207712
A review copy was provided by the publisher.
Tags:
2019 Picture Books
,
Beach Picture Books
,
David mackintosh
,
Family Picture Books
,
Friendship Picture Books
,
Heidi Reed
,
Nature Picture Books
,
Summer Picture Books
,
Vacations Picture Books
,
Video Book Trailer
,
Waiting Picture Books
,
Whales Picture Books