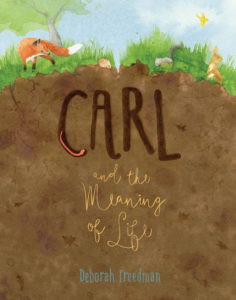 Written and Illustrated by Deborah Freedman
Carl is an earthworm who has no idea what the purpose of his life is. During his wanderings, he learns that his friends all know why they do what they do. Rabbit does what she does for her babies, fox does it for the hunt and squirrel does it to plant trees. But Carl doesn't know why he makes soil fluffy. When he returns home, he finds the soil is dry and hard. Nothing will grow and the animals have all left. Only when he gets back to work, making the soil fluffy again, does he discover his purpose.
This would be good for Earth Day or a discussion about how we are all connected and have value. It has an important message of how important every living creature is.
The illustrations are gorgeous. The font is curvy and small which may make it difficult for younger readers, but overall this is a great book.
Reviewed by Terrie Bishop, Media Clerk, Academy Park
Rating: ★★★★✩ (4 stars)
Interest Level: Grades K-3
Author Website: https://www.deborahfreedman.net/
Carl and the Meaning of Life
Written and Illustrated by Deborah Freedman
Viking
42 pages
Release Date: April 2, 2019
ISBN: 9780451474988
A review copy was provided by the publisher.
Tags:
2019 Picture Books
,
Animals Picture Books
,
Deborah Freedman
,
Earth Day Picture Books
,
earthworms
,
Earthworms Picture Books
,
Ecology Picture Books
,
Nature Picture Books
,
Purpose Picture Books
,
Terrie Bishop