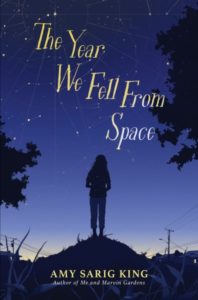 Written by Amy Sarig King
This book deals with divorce and depression and really opened my eyes to a perspective I did not have. The story is told from the eyes of a 12 year old girl whose parents announce that they are getting a divorce and dad was moving out. This when she felt like they "fell from space." King gives Liberty a awesome voice on what it may be like for children of families of divorce and with someone who suffers from depression. King's writing is so real and there were times I just nodded as she wrote about something. I would say, "that is spot on."
The book might be a little juvenile for some, but still, as an adult, I found it very appealing and enlightening. Read it!
Reviewed by Brad Butcher, Library Media Educational Technology Specialist, Evergreen Junior High
Rating: ★★★★½ (4.5 stars)
Interest Level: Grades 6-9
Author Website: https://www.as-king.com/
The Year We Fell from Space
Written by Amy Sarig King
Arthur A. Levine Books, an imprint of Scholastic Inc.
262 pages
Release Date: October 15, 2019
ISBN: 9781338236361
A review copy was provided by the publisher.
Tags:
2019 Children's Fiction
,
2019 YA Fiction
,
A.S. King
,
Brad Butcher
,
Bullying Fiction
,
Contemporary Fiction
,
Depression Fiction
,
Divorce Fiction
,
Dysfunctional Family Fiction
,
Family Life Fiction
,
Fathers and Daughters Fiction
,
Mental Health Fiction
,
Mothers and Daughters Fiction
,
Realistic Fiction
,
Sisters Fiction