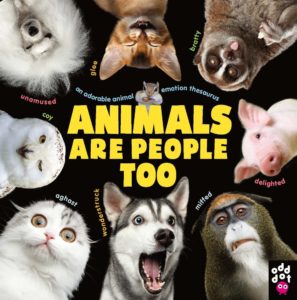 Created by Odd Dot
I like that this book teaches about feelings and shows that animals have feelings. This book is easy to read so young kids can read it too. Some parts of the book are funny. The book is telling the truth that animals are like people. I really like the pictures too. This is a great book.
Reviewed by Gabriela Taufa-Ortiz, Student, Westbrook Elementary
Rating: ★★★★★ (5 stars)
Interest Level: Grades 1-5
Odd Dot Website: https://www.odddot.com/
Animals Are People Too: An Adorable Animal Emotion Thesaurus
Created by Odd Dot
Odd Dot, an imprint of Macmillan Children's Publishing Group
238 pages
Release Date: October 22, 2019
ISBN: 9781250318633
A review copy was provided by the publisher.
Tags:
2019 Children's Nonfiction
,
animal photos
,
Animals
,
emotions
,
Gabriela Taufa-Ortiz
,
Odd Dot
,
Pets
,
Student Reviews
,
wild animals