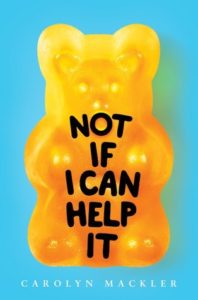 Written by Carolyn Mackler
While Sensory Processing Disorder gives Willa something to cause her to feel out of place and "weird," she has managed to make a best friend who doesn't know anything about Willa's condition. Compartmentalizing and therapy help Willa appear "normal" and allow her to feel like she is more like other people. When her best friend's mom becomes Willa's father's girlfriend and then fiance, Willa realizes that her private self is going to be exposed and she will lose the sanctuary of her home. In the process, Willa discovers that she is more "normal" than she had ever imagined. As a parent of a child with SPD, Mackler uses first-hand experience and insight to tell a delightful story from the child's point of view. Handling subjects like a neuro-psychological disorder, divorce, friendship, blended families, and general childhood angst in the setting of a humorous, honest and heartfelt story is a welcome relief from so many of the preachy books of today.
Reviewed by Marni Allred, Media Clerk, Robert Frost Elementary
Rating: ★★★★½ (4.5 stars)
Interest Level: Grades 4-6
Author's Website: https://www.carolynmackler.com/
Not If I Can Help It
Written by Carolyn Mackler
Scholastic Press
230 pages
Release Date: July 30, 2019
ISBN: 9780545709484
A review copy was provided by the publisher.
Tags:
2019 Children's Fiction
,
blended families fiction
,
Brothers and Sisters Fiction
,
Carolyn Mackler
,
Contemporary Fiction
,
Divorce Fiction
,
Family Life Fiction
,
Fathers and Daughters Fiction
,
Friendship Fiction
,
Marni Allred
,
Realistic Fiction
,
Sensory Processing Disorder
,
Special Needs Fiction
,
Stepfamilies Fiction